Table of Contents
From the President
CFB 'Vote of Confidence' 2017 Convention Report, by Doris Belusic
CFB 2017 Convention Photos
The Power of Individual Engagement and Collective Action, a speech presented by Mary Ellen Gabias, President, CFB 2017 Convention
On the Road to Rehabilitation: Canadians' Experiences at NFB Training Centres – a panel discussion moderated by Elizabeth Lalonde, CFB 2017 Convention
The Road Leads Back Home: The Pacific Training Centre for the Blind – a panel discussion moderated by Elizabeth Lalonde, CFB 2017 Convention
FEATURE ARTICLE – Free as a Butterfly: My Blindness Rehabilitation Journey, by Gina Huylenbroeck
Promoting Digital Freedom: Report of the CFB Lions iPhone Project, presented by Oriano Belusic, CFB 2017 Convention
Let Your Light Shine: Building Confidence Through Volunteering, – a panel discussion moderated by Donna Hudon, CFB 2017 Convention
CFB Members Elect New Executive Board 2017 – 2018
CFB Fun Trivia Night Fundraiser Report, by Doris Belusic
CFB Fun Trivia Night Photos
Giving to CFB
Donate Aeroplan Miles to Help Blind Canadians
The Blind Canadian – A Magazine That Matters, presented by Doris Belusic, CFB 2017 Convention
Recipes!
From the President
I returned home exhausted but happy from our May 6 CFB convention. By now you would think I'd be used to it, but the joy, camaraderie and determination of Federationists to improve their own lives, as well as the lives of others, continues to encourage and uplift me.
So many people did so much to make this gathering a success that I'm afraid to start making a list in the certain knowledge that I'd leave out some truly magnificent people.
You came, you thought, and you shared; we will all conquer. We'll conquer the doubts we have about our own worthiness; we'll conquer (little by little) society's lack of belief in our normalcy and competence; we'll conquer the official roadblocks set up by governments and systems that keep us down in an institutional way.
CFB is healthy, growing, and as determined as ever. This convention left us proud of what we've done and cheerfully looking forward to the things we'll do in the future. More and more individuals are finding their personal ways to build the movement and make differences.
Thanks to all who attended this year's convention, and thanks to those who couldn't come but are doing their part as well. Our future is bright indeed!
Mary Ellen Gabias
CFB 'Vote of Confidence' 2017 Convention Report
By Doris Belusic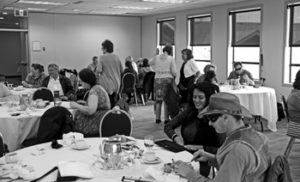 The Canadian Federation of the Blind held its "Vote of Confidence" convention on May 6, 2017 in Victoria, B.C. at the Harbour Towers Hotel and Suites. About 40 attendees participated from across B.CTo start the day off, CFB's President, Mary Ellen Gabias delivered a wonderful speech, "The Power of Individual Engagement and Collective Action" which celebrates 25 years of Federationism in Canada and describes many of CFB's individual and collective accomplishments. It's an impressive list.
The day continued with many important speeches and panel discussions on blindness topics, such as rehabilitation training, the CFB Lions iPhone project, employment, volunteering, the B.C. guide dog situation, Elections B.C. telephone voting, and more.
In the afternoon Mary Ellen delivered an informative and sometimes humorous speech, "A Vote of Confidence in Ourselves: Acting Like a Swan When You Feel Like an Ugly Duckling". Many of these speeches and panel discussions are in this magazine issue. We enjoyed a buffet lunch of assorted salads, chicken pot pie, baked salmon with a very tasty sauce, and other items. Coffee and tea were available all day. Nancy Gill, our "Loud and Proud" door prize chairman drew winning names and handed out door prizes throughout the convention.
The Annual General Meeting was held towards the end of the day and three Executive
Board positions were elected.
The day felt positive and fun and I think everyone enjoyed themselves as much as I did. CFB conventions are always informative and inspiring.
CFB 2017 Convention Photos
Photo Credits: Daryl Jones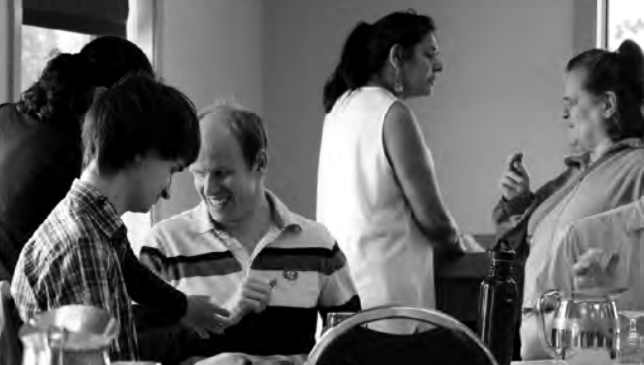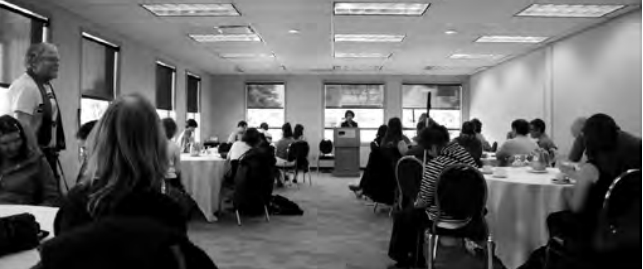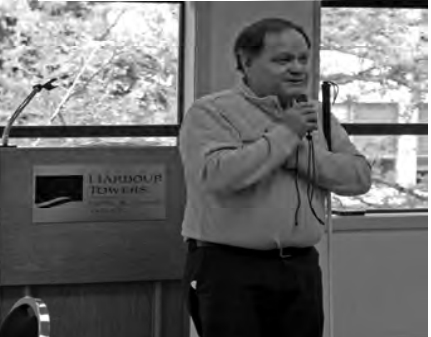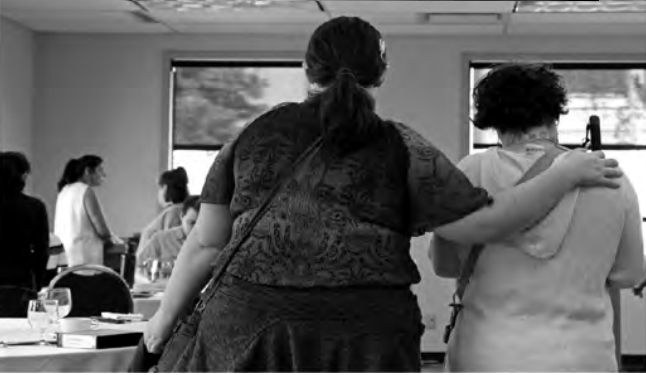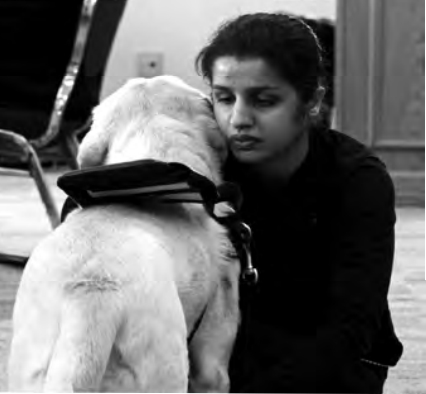 The Power of Individual Engagement and Collective Action

A speech presented by Mary Ellen Gabias, CFB President, at the CFB 'Vote of Confidence' Convention May 6, 2017, Harbour Towers, Victoria, B.C.
Welcome all of you to the convention of the Canadian Federation of the Blind. This is the 25th anniversary of Federationism in Canada, as well as the 150th anniversary of our country. We deserve to give ourselves a round of applause because it really is a milestone year for us. And with all the energy in this group, it's going to be a milestone future for us as well.
I'll begin by acknowledging that we are on the historical territory of the Coast Salish people. For us, that's more than a socially expected statement. It's our acknowledgement of another group of Canadians who are fighting for their human rights and their dignity. It's also a reminder to our fellow citizens that the blind of this country, too, are people whose problems stem from a history of widespread misconceptions and whose human rights have too often been violated.
On this historic occasion, it's right that we should take a few moments to celebrate the power of individual engagement and collective action.
We're all here because approximately 100 years ago a blind farm boy in Alberta did something really stupid. Jacobus tenBroek was playing archery with a friend and decided he would go behind the target and play peek-a-boo. Usually his friends weren't very good shots. That day one of them was! Dr. tenBroek immediately lost the sight in one eye. Through a process called sympathetic ophthalmia, something that wouldn't happen today, he also lost the sight of his other eye. Interesting that another huge benefactor of blind people, Louis Braille, also became blind because of sympathetic ophthalmia.
Dr. tenBroek's family discovered that the prairies of Alberta were a pretty barren landscape for a blind youngster, so they went to California, to the hills around Berkeley, in hopes of better opportunity. They found it. Dr. tenBroek graduated from the California School for the Blind and ultimately became a very distinguished professor at the University of California, Berkeley, where he had received his law degree.
Twenty-five years ago this year, another Canadian, Paul Gabias, returned to Canada from the United States, determined to bring Dr. tenBroek's legacy to Canada. So, in a way, 25 years ago, Dr. tenBroek's spirit came home. What is that spirit? What do we believe? Why are we here today?
We've repeated it many times and many ways in our agenda: It is respectable to be blind. Well, you say, "Who would doubt it? Everybody knows that. This is an enlightened society. We believe in tolerance and inclusion. Of course, it's respectable to be blind."
I contend that there are three areas in which we must work as a Federation to make that simple statement a reality in fact and not just a long-hoped-for dream. We need to deal with what we believe about ourselves. We need to deal with society's attitudes about us. And we need to deal with the whole set of institutional assumptions about blindness that have been part of Canadian civic life from about the time Dr. tenBroek met his blinding accident.
If you look at the language we use about blindness, you can see some of society's problems.
A simple story tells the tale. Thursday, I was with the Kelowna Lioness, a community group I belong to. We were raising money for the Heart and Stroke Foundation and we rode something called "the big bike". It's a large monstrosity of a bike with about 28 seats. People get on and pedal madly for a couple blocks, everyone waves flags and makes noise, cheering on the cause and ourselves. I climbed on the bike with no more difficulty than somebody who's got a few extra pounds and a couple years on them would have. I peddled along with my colleagues and then I got off.
The man who was working the crowd as a volunteer asked me two things: "Can you find your way?" and "How long have you been blind?" Interestingly enough, he later came to me and apologized for calling me "blind" instead of "visually impaired". But it didn't occur to him to apologize for or to question his notion that I might not be able to walk from the bike to a nearby crosswalk to go on my way.
We are in a society that is hesitant to use the word "blind" to describe our physical condition, but is not at all hesitant to use the word blind to describe the concept of being oblivious to the obvious. Blindness, in people's minds, means not knowing what's going on, and sometimes, being willfully unaware of what's going on. The term "blind drunk" or "he's blind to the reality" are commonly used. Both of these phrases mean that the truth is right there staring a person in the face and yet the person chooses not to believe it.
So people find 23 euphemisms to deal with our physical loss of sight, but don't even think twice about using the word blind to mean unawareness and incapable of coping with the world as it is. That is, at heart, the societal attitude that we need to change.
The Canadian ideal is peace, order and good government, and the Canadian Federation of the Blind believes in that too. We want to disturb the peace of complacency, create a new order of thinking about blindness, govern ourselves through our own organizations, and insist that the provincial and federal governments we help elect treat us with dignity and respect.
Respect must be earned. I believe that we have earned it and that we will continue to earn it. Knowing to our deepest core that we have earned the respect of our neighbours is the battle that we must fight within ourselves. How many of us, though we may say it is respectable to be blind and that we're capable, have copped out and gone for the easy route when it was offered to us? I know I have sometimes. I work at not doing that, but it's very tempting. How many of us have sold ourselves short and said "blind people can't do that" only to discover very shortly thereafter that there are some blind people who are doing precisely what we thought was impossible. We need to work to improve our belief in ourselves, to change the way society thinks about us, and to change public policy, so that it reflects our view of ourselves. That is the underlying purpose of all of the work that the Canadian Federation of the Blind has been doing for the last 25 years.
I believe we are the only organization of blind people in Canada that works as hard at all three of those things as we do. That is not to disparage any other organization, because many groups do good work. The three-pronged approach of understanding ourselves, understanding and educating our society, and reforming or reshaping programs that are supposed to serve us, is an integrating approach that the Federation takes seriously. We do not expect more of our society than we expect of ourselves, and, without criticizing one another, we seek to raise all boats on the tide of our own rising expectations.
One of the things that we do to help raise expectations is meetings like this convention, where blind people talk about things that we are doing. I guarantee you that, unless you are a far more enlightened human being than I am, you'll walk away with something new. I always do. This is a place where we can feel safe to admit our struggles, be proud to cheer about what we've learned from our setbacks, celebrate our victories, and renew our determination to make the changes in ourselves, in our society and in public attitudes and public policy that will make a difference.
Let me tell you some of the things the Federation has done over the past years. I recognize that I will leave out a lot. Sometimes, when we look at the enormity of the task ahead, we forget or minimize what we've accomplished.
Braille is Beautiful
The Federation has, from its beginning, advocated the use of Braille and explained its value. We've been on public radio programs. We've taken this story to schools. We talk about Braille. We use Braille. We had an entire convention and an entire magazine focused on the value of Braille – not because we are criticizing people who don't use Braille, not at all, but because we want that opportunity to be there for those who want it. We don't want our unique form of literacy to disappear.
Cane Travel – Walking Proud
Proud? White cane? That's a new concept for a lot of us. For many of us, the cane has been a symbol of dependency, of admitting blindness, something that we didn't want to claim. The Federation is changing that. We talk about our canes almost as if they're friends. Some of us name our canes. The cane for us is a symbol of independence, it's a symbol of freedom. It's a tool we carry and use with vigor and with pride. The Canadian Federation of the Blind gives canes to blind people as needed and as funds permit. Giving one another access to good canes and help in learning how to use them is something we are very proud to do. Thank you to Thrifty Foods for helping us with that project.
Training
Later today you will be hearing about the Pacific Training Centre for the Blind. Our former President and current Secretary, Elizabeth Lalonde, learned about good training for blind people as part of this Federation and was determined to bring that model of training to Canada. And she is doing that!
Networking
Jacobus tenBroek founded the National Federation of the Blind (NFB) in the United States. That organization has vigor, power, success, people – and it was that philosophy that was the basis of the founding of this organization. We are a uniquely Canadian voice, but we are proud to network and share experiences, to take and give encouragement to our brothers and sisters below the 49th parallel. The Federation in Canada has worked to help expose many people to our philosophy by helping them attend the National Federation of the Blind conventions. How many in this room have had that experience? How many in this room have found that experience helpful? It's an important thing that we do and it's something that we will continue.
The Right to Read
The Federation has been involved since the beginning of the development of the National Network for Equitable Library Service (NNELS). We are trying to make our library service truly public. We are citizens of this country. We live here. We work here. Those of us who are employed pay taxes here, and if we don't, our families and friends do. We have a right to publicly funded and publicly accountable library services. It is the Canadian Federation of the Blind that played an instrumental role in helping NNELS find connections to build their collection and acquire the philosophy of inclusion in mainstream library service that guides it today. We have a long way to go to make our library service what we want and there is resistance. But the Federation is one of two organizations of the blind that has done the most to lead the way in helping public libraries give tangible expression to the belief that our libraries ought to be part of the public system. Vision Impaired Resource Network (VIRN) from Manitoba has also contributed significantly to the library integration movement.
Guide Dogs
The B.C. guide dog legislation that has recently become law includes some good things and some really horrible things. It was the CFB that put together a coalition of guide dog users that has attempted to lobby the government to prevent some of the more draconian results of certification and to strengthen enforcement of provisions against discrimination.
Graeme McCreath has been both tireless and courageous in his stance against taxi discrimination. He continues to do this work at great personal cost, both in time, money, and emotional commitment. We'll be hearing about our efforts and ways in which you can support what we're doing later today.
Employment
Employment has been a core goal of the Federation since its beginning. We have worked on it, not just as an organization, but as individuals. One of our members helped a blind high school student get his first work experience. That individual is now employed. We have assisted with letters of recommendation and support. We still have work to do on that score.
It is still considered acceptable by the B.C. government to use the possession of a driver's license as a job requirement for social work. Does that make sense? No. Requiring a driver's license for any job that does not include operation of a motor vehicle as a major portion of the duties is flat out discriminatory! Yes, a social worker needs to be able to get around to be effective, but is being behind the wheel of a car the only way to get somewhere? We're here to tell you we all got here today and none of us who are blind drove a vehicle. Self-driving cars are coming soon, and that is exciting, but we need to modernize employment qualifications right now to remove the antiquated and discriminatory driver's license barrier.
The most persistent and powerful barriers to employment are not found in our laws, but in ourselves. Sometimes when you hear people describe what happened when they became blind, the statement goes like this: "I lost my sight so, of course, I couldn't work." That attitude needs to change. It needs to change in our own hearts and souls, and it needs to change in society.
It is incredibly sad that, when we hear about the completely unacceptable, totally intolerable unemployment rate among people living on native reserves, the reaction of most blind people is "I wish my people had it that good." Eighty or ninety percent unemployment simply cannot be allowed to be sustained. We've worked on that from the beginning and we'll continue to strive for employment and economic freedom for the blind.
The Blind Canadian magazine
You'll hear later from Doris Belusic about The Blind Canadian. It's a publication that is leading Canadians to think about blindness in more constructive ways. We will continue our efforts to get The Blind Canadian into the hands and into the thought processes of more and more Canadians.
Technology
You'll hear about our iPhone project. I'll let Oriano Belusic tell that important story for you later today. But you should know now that dozens of blind people who would otherwise not have access to the power of the iPhone are now using that technology, thanks to the partnership between the CFB and Lions Clubs on Vancouver Island and elsewhere.
Quietly, without fanfare, Larry Scharschmidt, one of our members, has been instrumental in helping blind people learn how to become amateur ham radio operators. Although it's not officially a CFB project, make no mistake, that kind of skill building, horizon broadening activity is the CFB spirit in action.
We frequently are asked to evaluate or endorse new technologies. Doug Lawlor has taken on that task. He spends a great deal of time carefully reading information, evaluating what he's read, and working with technology developers to gently but firmly tell them, "No, a specially-designed bathroom for the blind is not what we need," or "Yes, that new software might actually be helpful."
Website access
We regularly work with website developers on accessibility. For example, a local site in Victoria came to us for information about how to make their site user-friendly for blind people. Recently, a Kelowna news site, which is the chief source of news for most people in my city, had a website that was great to use, then they upgraded it and it became not great. With our firm but courteous insistence, they've now redone it again. It is once again accessible. They have committed that they will not break accessibility in the future.
Services to the Elderly
Sometimes people work privately. Because they share what they do, their advocacy has long-term value to all of us. I don't want to embarrass you, Maria, but the work you have done is so important to others! Maria Kovacs' father needed long-term care at home. As part of their protocol, health authorities keep an ongoing chart for all caregivers, in handwritten print, in a folder on the care recipient's refrigerator. Maria said to them, "This doesn't work for me. I need to be involved in my father's care. I can't look at that handwritten chart." She got her health authority to recognize that they must make sure the information that was handwritten in that care plan on the refrigerator also got provided to her in a way that she could use. A template that she developed is a value and meaning to blind people all across the country.
Conventions
We've put a lot of time and energy into sending people to NFB conventions. If you haven't gone, talk to people who have been to an NFB convention, ask them what it means to them. This convention, too, is the result of commitment to Federation principles. We raise funds to help as many people as possible attend gatherings like this. Coming together is one of the most valuable uses for the money we work so hard to raise.
Physical Accessibility
Maple Ridge, B.C. was trying to figure out what to do about bicycles on sidewalks. Have any of you ever had a chunk taken out of your leg by a bicycle wheel? Have any of you ever had a dangerous close encounter with a motorized scooter? We have advocated with the city of Maple Ridge for street and sidewalk designs that are respectful of bicyclists and pedestrians. They are listening.
Public Education
Based on her experiences here and at the NFB convention, Nancy Gill decided she wanted to do something for blind and vision impaired people living in her city. With our help, she successfully applied for funding. Enlisting the aid of family, friends, and local volunteers, she invited anybody who had anything to do with blindness to a community celebration and information fair. About 70 people were there. The Canadian Federation of the Blind was prominently there helping Nancy put the event together.
Donna Hudon keeps up with happenings in her home town of Nanaimo, B.C. She regularly follows the community Facebook page. It was only natural that she would comment on taxi discrimination experienced by a guide dog user in town. That led to a brisk exchange that educated a lot of people, not just about guide dogs, but about the capabilities of blind people and the common misconceptions about blindness. Although Donna did this work to further public education, I'm happy to report that her advocacy for others was instrumental in a potential new employment opportunity for her.
BC Transit
In Victoria, traditionally, blind people had to announce to drivers where we wanted to get off the bus and count on drivers to remember our request. Like five-year-olds, we had to say, "Are we there yet? Are we there yet?"
Thanks to our members who've filed human rights complaints, BC Transit officially agreed that we have a right to effective quality information about where the bus is going, its schedule, and the location of the bus at all times along its route. Although we had our doubts that it would work, we cooperated with BC Transit in its initial effort to make the drivers verbally call out all stops. We were right. It didn't work. We complained. BC Transit made a second effort: putting in Trekker Breezes so that at least the streets were announced. Again, we chose to cooperate and give feedback.
Even though we understood that the Trekker Breeze was not the best available solution, we recognized two essential truths. Firstly, we had won the right to information, but we had not won the right to dictate the way in which BC Transit provides it. Secondly, successful advocacy is often the progressive realization of a worthy goal. It is rarely total initial victory.
As we thought might be the case, drivers turn off the Trekker Breezes thereby depriving us of the very information we filed the initial human rights case to secure. No solution is ideal if drivers have the capacity to turn it off. BC Transit told us when they installed the Trekker Breeze system that drivers would not be able to silence it. Drivers are able to do so, and most of them do silence it at every opportunity.
We have informed BC Transit and the BC Ombudsperson that the spirit of the settlement we made is being violated. We are definitely on their radar in a more powerful way than we have ever been before, largely due to the willingness of people in this room to monitor and report lack of compliance.
BC Transit tells us there will be a state-of-the-art audible announcement system within 16 months. Now, they've told us that before and have not kept their commitments. One thing is very different from the days of previously broken promises. They have learned about the Canadian Federation of the Blind. We might lose a battle, but we don't lose the war, because it isn't over until we've won.
Bus Passes
Why should people receiving a public benefit have to go to a private charity corporation to get it? In Victoria, through the advocacy of CFB, if you want a pass that proves that you're blind and permits you to ride the bus free, you can get it from BC Transit the way anybody else gets a bus pass from BC Transit. We haven't succeeded to implement a transit pass distributed by the transit authorities in the rest of the province, but we will, because we won't quit until we do.

Rally for Change and Choice
Fifty blind people and our friends stood on the steps of the B.C. Legislature demanding that people who become blind or who need blindness skills training receive it in a dignified way at public expense. We must have a choice of the kind of training we receive and where we get it. That is still an ongoing effort, but again, we will not quit! We have spoken to the federal government, and the new Minister of Sport and Persons with Disabilities "gets it". She understands the importance of publicly funded and publicly accountable rehabilitation. What she will be able to do, since rehabilitation training is a provincial responsibility, has yet to be determined. It's our job to continue to advocate for what is a basic human right.
Public speaking, Service clubs
And, we do speak out! We have done many presentations to government. We've attended two public hearings and submitted written recommendations on proposed new federal disability legislation. We've worked hard to educate provincial legislators and regulators on problems with B.C.'s guide dog legislation and we will continue to do that.
Many of our members have joined service clubs and are spreading our message that way. Others have spoken to church, governmental, or civic groups. Our public speaking project depends on all of you to make it grow.
Listservs
Our general listserv is a place for us to share information, to encourage one another, to discuss issues that are important, that matter to us in our personal lives. When you see requests on the listserv for information, suggestions and ideas, please continue to be as generous as you have always been.
Our blind entrepreneurs listserv is for people who want a place to discuss aspects of entrepreneurism related to blindness. That's an under-used list, but it is one that is important to some.
Website – www.cfb.ca
I guarantee you that in the next year we are going to work hard to make our website strong with a voice that impacts people. We already receive three to five letters a week from blind people who need help. Sometimes it's a family whose child is becoming blind. Sometimes it's somebody who wants information for a school project. Sometimes it's the child of a 90-year-old who can't see to dial the phone and wonders how to get a voice-dialing telephone.
All issues of The Blind Canadian magazine can be read on our website, as well as BlindSide, our e-newsletter.
Who is CFB? CFB is all of us. Whatever we do as individuals to help blind people. We share with one another, we build on the experiences of one another. CFB is not a large corporation, we don't have an enormous budget. Most of the money we have, we raise ourselves through hard work, through small fundraisers and through personal donations. We don't have paid staff. The work we do is done by you, by me, by everybody in this room. That's made us tough, it's made us strong, and it's taught us to love one another and support one another in a way that nothing else can. At times, the lack of funding is an enormous frustration. But overall, the contributions of people – volunteers who do this work because we're committed to one another – is beyond price. We're determined to make change, and we want to chart our own course. I salute all of you because all of you have played a part in the list I've just given you. And all of you can probably think of other things that we have done that didn't make it into this report.
You matter. You're making a difference. Let's make the next 25 years louder and prouder than the past have been.
On the Road to Rehabilitation:Canadians' Experiences at NFB Training Centres, A Panel Discussion

CFB 'Vote of Confidence' 2017 Convention
Elizabeth Lalonde, CFB Secretary and Director of the Pacific Training Centre for the Blind, moderates this panel discussion
Elizabeth:
This panel is about NFB-style intensive training and will consist of myself, Gina Huylenbroeck and Danielle Frampton (Fernandez). We have all graduated from Louisiana Center for the Blind in the United States. We are going to talk about our experiences there. Simon Jaeger also attended the Colorado Center for the Blind for several months so he has experiences as well. I am basing my presentation on a blog that I wrote while I trained in Louisiana for nine months in 2009-2010. I later wrote an article based on my blog. It will give you a sense of my experiences there.
I was fortunate to get a scholarship from the National Federation of the Blind (NFB) to attend the Louisiana Center for the Blind (LCB). It's an intensive training centre for blind people to learn independent skills. It's in a small town in northern Louisiana called Ruston. It's about the same size as Duncan, B.C. I went there because I wanted to learn as much as I could so I could return to Canada and bring the training model back home and share what I learned. I did this and I did more than that. What I hadn't expected was the tremendous personal fulfillment and confidence and accomplishment that I experienced during my time there. So, this is my personal journey at LCB:
Friday, November 6, 2009
My First Week at Louisiana Center for the Blind –
I finished my first week at the training centre. In one week, I learned to: thread a needle, slate the alphabet in Braille, travel independently around the school building in sleepshades (blindfolds), measure wood with a click ruler, and practice on a Braille notetaker. I am learning so much and thinking in ways I haven't before, calling on all my powers of concentration and skill to get through the days.
Today was my first outside travel lesson. My instructor and I walked back and forth in front of the centre and practiced finding streets. I worked on finding curbs. Mostly, I overstepped them or didn't go far enough. I found myself standing ten feet away from the crossing, my instructor calling me back from the road. Once I fell, almost gracefully, against a parked car. But by the end of the lesson, I walked successfully to each curb.
Today was also the day I learned to thread a needle. And, today in shop, I measured a block of wood using a click ruler. A click ruler is the only tool in woodworking created specifically for blind people. It is a metal ruler divided into inches, half inches and one-sixteenth inches. Each click represents one-sixteenth of an inch.
I am invigorated, exhausted and overwhelmed. I remind myself to forget my ego, and realize I am on a journey.
I moved into the LCB apartments this week. I have a lovely roommate who is 20 years old. She is a great support and mentor.
Thursday, November 19, 2009
Another Week Over –
Travel was better this week. I am starting to orientate myself using audio and tactile cues. I didn't realize how much I used my limited vision to navigate and avoid, or not avoid, obstacles! Wearing a blindfold all day is allowing me to focus on my other senses.
My instructor, Roland, and I walked down a few blocks from the centre. I practiced finding street crossings and staying on the sidewalks. I am learning to listen to the sounds of traffic on the parallel and perpendicular streets and feel the direction of the sun or the incline of a driveway to judge if I am walking straight. If the cars suddenly sound like they are in front of me instead of to my left, then I know the road has not magically changed position – I have.
Like most of the teachers here, my travel instructor is blind. It is motivating to know that I can eventually become as competent as Roland is at getting around.
In shop this week, I used a drill for the first time. The drill is heavy. It took all my strength to hold it in place.
Today I made bacon and eggs in cooking class. Cooking in a frying pan is another thing I normally use my sight for. It was neat to cook the whole meal under sleepshades. I turned the bacon with tongs and listened to the sizzle of the bacon grow quieter, which told me it was time to flip it over. For once I didn't burn the bacon.
Monday, November 23, 2009
I walked in sleepshades to the apartments and back and only veered onto the road a few times. Each time I knew right away and managed to correct myself.
Tuesday, January 26, 2010
Getting Into the Swing –
I am getting into a routine and working hard. I am reading Braille at 25 words a minute, a huge improvement from when I started in November. My travel instructor is assigning me several independent routes. He gives me a specific route or asks me to find a store. I go to the store and bring back a business card to show I made it there.
I walk with my cane at a good pace. I am fast, but working on my accuracy. Some days I have excellent travel sessions. Other days, I veer to the other side of a street without realizing it, get turned around and walk the wrong way, or walk on the street instead of the sidewalk. When these things happen I get frustrated, but I also know it is a part of my training and I will get better.
I am immersed in all this learning, but by far the most incredible part of being here is the people. There are 20 students here. We do so much together and experience so many things, good and bad. The bond grows each day. LCB is a family. The immersion is not only physical immersion: to learn the skills of blindness; but also, at a deeper level, an emotional immersion. Training is a time, a space away from your regular life, to take stock and to work on yourself.
Thursday, March 25, 2010
Whirlwind –
My life is a whirlwind. Home seems so far away and it feels like I have been living in Ruston, Louisiana forever. I have been training for five months now. I am progressing in all my classes. The progression isn't as drastic as in the beginning; it is more a continuous evolution of skills and confidence.
The other day I travelled 20 blocks in an hour. My speed and accuracy is increasing. But occasionally I still make big mistakes. Last week I was travelling with confidence until I discovered I had walked in the wrong direction and down the wrong road. If it hadn't been for the construction workers who told me where I was, I might have walked to Canada before figuring out my mistake.
I am learning to focus on the parallel traffic to keep me in line and out of the parking lots. I have to avoid distractions as much as possible. If my mind wanders, my feet follow.
In shop, I am progressing to the end of the requirements before starting my final project. I spent at least two weeks learning to use a tool called a router. The router and I don't have the best relationship. The first task was to learn to tighten and loosen the bit with two wrenches at the same time. This improves coordination and dexterity. It also significantly improves one's ability to bite one's tongue and stamp one's foot in frustration. You have to tighten and loosen the bit ten times without help before progressing onto actually using the tool.
In life skills, I changed a fluorescent light bulb in the ceiling – and failed. I found the light on the ceiling with my cane. (Yes, white canes have more uses than you could imagine.) I climbed the ladder and attempted to connect the new light. I must have jammed it because the light did not come on. I will have to do this again before I can finish this class.
There are 25 students here now. The school is getting crowded.

Saturday, May 29, 2010
Sweat and Tears –
I am at the peak of my training. It is not called intensive training for nothing.
I finished the home economics part of the program, except for my meal for 40, which is this Wednesday.
I am making progress in Braille, but it is slow. I am still reading 30 to 40 words per minute. The more I read, the less I get stuck and the more easily I can decipher words.
I did my first supported drop route a few weeks ago. On a drop route, a driver takes the student to an undisclosed location. The student does not know where they are being dropped off and must find their way back to the centre without asking any questions. They must navigate using the skills they have been learning at the centre. On a supported drop route, the instructor goes with the student and also does not know the location.
I was excited. First step, I determined the cardinal directions: north, south, east, west. Then I listened for clues. All was quiet except for a busy street in the distance to the south. I walked toward the traffic sounds. When I reached the street, I heard the distinctive clink, clink sound of the cars running on concrete. This clue told me I was most likely on Alabama. Alabama is one of the only streets in Ruston with this distinct sound. Then I listened and heard cars to the west on the parallel road. There weren't many cars. Those I did hear were coming from two directions. Since I was most likely on Alabama, I determined the street to the west could only be: Bonner, Trenton, Vienna, Munro, Minden, Homer or Everett. I ruled out several of these streets right away. Trenton is a busy one way street, where the cars only go south. Munro is a fairly busy road. Bonner is also busy. I decided it must be Homer or Everett. I went on this assumption and walked east. If wrong, I could always go back to my starting place and come up with another theory. As I walked, I realized I was right about my location.
When I heard the one-way traffic of Trenton, I breathed a sigh. When I crossed Trenton and turned south towards the centre, I knew for sure.
We say here that our sleepshades are precious because they represent our hard work and determination to get through this training and to improve on our skills. Many times my shades have hidden sweat that drips down my face or tears that fall from my eyes.
Several students who have become close friends are graduating, and new students are starting the journey of training. I miss those who have left. I will be graduating in August. It is hard to believe how fast my time here has gone. In other ways, it seems as if I have been here for a lifetime.
Tuesday, June 1, 2010
Pickle Juice –
I did all my shopping for my meal for 40 yesterday. So much to buy. I had to quadruple the recipes. I am making chili, rice, tossed salad, baking powder biscuits, "Dirt Cake" and pink lemonade.
I cooked all day. The only mishaps were when I broke a jar of pickles, which fell out of the fridge and shattered into a hundred pieces of glass drenched in pickle juice. I uttered a few unrepeatable words and spent 20 minutes cleaning it up. I also put baking soda instead of baking powder in my biscuits and had to re-do the whole mixture.
It was 91 degrees today, but with the humidity it was over 100. So hot! The June bugs sing at night.
Saturday, June 12, 2010
Lost in a Backyard –
I timed 42 words a minute last week in Braille. It is nice to feel my fingers slide more quickly and smoothly across the page.
I have two extra cane travel classes a week. One day, I searched up and down the same block for 45 minutes, but could not find the address. Finally, frustrated, hot and exhausted – and lost in a backyard – somebody found me and helped me back to the sidewalk. He said, "I know we aren't supposed to help you, but I saw you looking around for so long…" I thanked him profusely. It turned out I had accidentally been given the wrong address.
Wednesday, July 28, 2010
I completed another graduation requirement in travel today: a 10 km walk around Ruston. My teacher gave me a preset route written in Braille. It included combinations of all the routes I've been doing over my time at LCB in one long travel session.
Part of the route involved crossing the Interstate, then going back to the other side of town: east, west, north, south, and everywhere in between.
The last few weeks have been quiet. I did my "out-of-town" route on Monday. I went to Monroe on the Greyhound and took the city bus to the mall.
I completed my final computer assignment. I made Braille versions of a menu. I timed at 57 words a minute in Braille. My goal before leaving here is 60.
Friday, August 6, 2010
Out With a Bang –
Today is my graduation day. Isn't it just like me to graduate during a thunderstorm!
I can't believe my journey here is over. My time here has been long and life-changing. I am excited to be going home, but also filled with grief to leave my life here. This is a place both in time and outside time, both in this world and other-worldly. I am the same person I was when I started, yet forever changed.
I will go soon now to the library to receive my "freedom bell".
*********
So now I'd like to call on Danielle. Danielle and I trained together in Louisiana. She also came to help me start the Pacific Training Centre here in Victoria.
Danielle:
I love listening to Elizabeth's story because we all have our different stories on our journey and how training has changed us.
Gina and Elizabeth can't even imagine that in 2009, before I went to Louisiana Center for the Blind, how different I was. When I went to the National Federation of the Blind (NFB) national convention in 2009, I was basically holding onto my friend's arm and was like, "Don't leave me, don't leave me, I'm scared." Thinking back, I can't believe I was like that.
I had a shorter cane then. I had cane travel throughout the years, but I had also become totally blind in 2002 and I thought my cane travel was good–but at the same time, I didn't really think anything more of it.
Then I met a really fabulous woman named Serena Olsen in San Francisco and she tested me. She was like, "Let's go out for a walk," and I'd say, "A walk? What do you mean? I don't want to go out for a walk." And then she'd say, "Let's cross this really big street," and I'm like, "I can't cross that by myself."
So, Serena told me about the Louisiana Center for the Blind. It took a little bit, but I got in January 2010 and that's when I met Elizabeth. Training was just as hard for me as it was for Elizabeth, except I had been doing Braille for a while and I was reading about 25 words a minute. I left the center reading 90 words a minute.
It was hard work, you know. Going to the training centre is not always fun and games. We're working hard, like Elizabeth says. I didn't have to wear sleepshades because I'm already totally blind. I focussed and worked hard and my teacher would be like, "Alright, you're going to go home and read 20 pages of Braille today," and I'm like, "Oh man."
Cane travel: My problems with cane travel was indoor cane travel, not outdoor, which was really interesting because I've been travelling for years, but I'd get turned around and do donuts. Glad I don't have that problem anymore. In the beginning I was so embarrassed to know that I was having some directional issues.
Home ec: I loved cooking, but I had always stuck to meals that I knew how to cook and I wasn't being adventurous to cook new things. So, when I was at the centre, I loved it so much that they had to kick me out of the kitchen. I was like, "I want to stay." But they said, "No, you have to leave. You have to go to a different class." "Please don't kick me out." The teacher was very nice, but she was like, "No, you're done."
Wood shop was amazing. I love to paint ceramics, but wood shop, I never would have thought that I could use all the power tools and actually physically make something, and make it shiny and beautiful. At one point I was mad at my teacher, because he wanted me to cut this really small piece and I was terrified. But I did it and felt better afterwards. And I knew he was like, "You can do this," but I was like, "I don't want to do it." He said, "You need to do it."
When you are at the training centre, it's definitely an experience because you're fighting with yourself a little bit, because you're like, "I don't want to get out of my comfort zone. I want things to stay the same." The only way to really change is to break out and try something new. And, that's what they had us do.
When I came to work here in Victoria with Elizabeth at the Pacific Training Centre, I wanted all that for everybody who came – to get that life-changing experience, because here in Canada it's sad to know that a lot of people aren't getting the training who might need it or want it. That's why Elizabeth started the training centre, so we can help other people to really feel that confidence and independence and feel happy about themselves, and not worry that they're being judged, and that you can travel around the world and do what you want – like NFB says, "Live the life you want."
My journey at LCB was nine months of bliss. I had some hard times, but I loved the family that I made there and I'm glad that we are all here today and joining together to learn and work on blind issues in Canada.
Elizabeth:
That was beautiful, thank you so much. And I have to say, I truly believe that Danielle is one of the top blind travellers in the world. She's a very good traveller and if you ever get to work with her you're very lucky. So now I want to introduce Gina Huylenbroeck. We're all so proud of Gina. Danielle actually met Gina and then Gina came to our Pacific Training Centre for a few months. There she whet her appetite and got the passion to want to go to a training centre in the United States – and she did it.
Gina:
I started losing my sight when I was 20 and I did not use a cane until meeting Danielle and Elizabeth who introduced me to the straight white cane. When I met Danielle and Elizabeth I had never encountered independent, strong blind people and they were extremely inspiring to me. I'm like, "What are they doing?"
So, I started going to the Pacific Training Centre. I was given a white cane and I'd put my cane away when I was around my family and my friends. For me, there was a stigma around the white cane. Danielle showed me how to use it and I started to do a bit of travel under sleepshades around the Pacific Training Centre. It became that the cane made my life a little easier. With it I wasn't needing to always look down and I was able to talk to the person next to me. My cane would start to find obstacles. My confidence began to grow.
I started to learn Braille and learn about screen readers and things I'd never heard of or learned about. Elizabeth and Danielle shared their experiences at LCB and I said, "Well, OK, I need to go there. I need to learn these tools in a timely manner."
I put the wheels into motion and I got to LCB in April 2016. I got there and I was really scared. I'm in another country, all by myself. I do have some residual useful vision and I'm like, "I don't know if I can do this under sleepshades all the time." I was really scared. But Danielle and Elizabeth inspired me–they did the training so I'm like, "OK" and I gave it a chance.
I am so grateful to have had that opportunity. I learned so much about myself and gained confidence and learned that I have the ability to do everything I want to do. And so does everybody else. With the right training, the right attitude, life is exciting for me now.
Cane travel was one of my favourite classes. I was extremely scared when I went outside. The traffic scared me. But as I went along and started learning the routes and learning how to listen for traffic, it got easier. And the more I practised and the more I did things, the better I started feeling about myself. I had tons of tears, like Elizabeth, and was also lost in parking lots for hours it seemed. But I learned how to figure things out and I learned how to get around.
Braille, for me, has always been my biggest struggle. But I learned so much about myself in this training.
My favourite class was wood shop. I loved it. Both my dad and my brother were carpenters so I guess that was something that just inspired me to use all of the power tools: radial arm saws, table saws, routers. Then I moved on to my final project, which I designed myself. I did a stack of nesting boxes, where four boxes fit within each other with an eighth of an inch clearance. And I did it all–and now I want a wood shop!
I, myself, don't like cooking and I was really hoping that this training would change that. It didn't really. But, we worked up to our meal for eight and then our meal for 40. At the very beginning of my training, I was like, "There's no way I can do a meal for 40. Are you kidding me?" But by the end of it, I did it. I made Thai chicken and vegetables with rice. I baked five loaves of focaccia bread–one, I did gluten free. I did three loads of brownies–one tray I did sugar free. It was awesome. I did it. The meal was on time, hot and tasted good. It was one of my biggest accomplishments.
So, for this training, I really hope that I can inspire people to look into themselves. I'm super grateful for this experience. The CFB, and I did a GoFundMe that I took on myself. All of the cost I endured. I did get a bit of financial help which I'm so grateful for and I'm hopeful, here in Canada, that we can convince our government to allow us to get this training that we so should be able to have. Thank you for letting me share my story.
Danielle:
Just so you know, when people at the centre go on "drop routes", it's not like they've never been to that area before. Ruston is a small town and they make us walk everywhere. We know Ruston almost like the back of our hands, because we've walked every street up and down for nine months.
When they take us on a drop route, the first one is with your instructor. They drop you off and you listen for clues and you make your way back to the school. Then you have two more which you don't have an instructor with you. It's the whole confidence-building thing. You listen, maybe you realize you're on Alabama or some other street that you recognize, that you've felt before with your cane. It's like landmarks kind of thing. You'll find some and say, "Oh, I know exactly where I am," and then just go from there.
They want to teach you that, so when you are in a place or position that maybe you haven't been at before, you can still learn how to figure it out and get out of your situation. One of the biggest reasons why Elizabeth, here in Canada, wanted to make the training centre was so that we can help people understand that you can get out of situations if you have the skills and you know what you're looking for.
Audience question:
If I understand it right, a student is not permitted to use their BlindSquare app on their iPhone or ask someone where they are during training?
Danielle:
When you are in training, they don't want you using BlindSquare because you are learning the street names, you're learning all different types of stuff about the area like: What kind of street crossing is it? Does it or does it not have a light? Is it a one-way street? There's many different things that come into play. You can use BlindSquare outside of training, but they want you to learn the travel skills in your head.
Gina:
You don't always have your phone with you. Or, your phone isn't always working.
Elizabeth:
It's a bit like when you're learning math without a calculator. It's important to learn those fundamentals first, then later on you can use a calculator.
Danielle:
Even now I only use BlindSquare if I really need it. I don't use it for directions. I'll check it for what's around me, but I'll never use it as my GPS. Even when I came to Canada, I didn't know any of these streets here and I had to teach a student.
Elizabeth:
I asked Danielle to teach a student a few days after she arrived in Victoria and she'd never been here before, so talk about being able to do something – we call that "structured discovery"– she just did it.
Audience question:
How do you find out street names?
Danielle:
I might ask somebody. Now that I've gone through training, I'm not embarrassed to ask, "Excuse me, what street is this right here?"
Elizabeth:
That's a big thing – not being afraid – and not being embarrassed.
Danielle:
I think most people are embarrassed to ask directions because they might think that people are going to judge them.
Audience comment:
Sighted people get turned around all the time.
Danielle:
That's what I tell people. It has nothing to do with your blindness. It's just sometimes how we are.
Audience question:
Often when people hear that the Federation promotes travel under sleepshades and, that in training, discourages people from using remaining vision, the myth is that we are anti-eyesight and that we want everyone to act as though they are totally blind. There is another philosophy of blindness promoted around that talks about getting people to use their vision to the maximum degree possible. Can you please explain the difference between maximum use of vision and optimum use of vision?
Elizabeth:
That's a really good point. This is the way we approach it. When we are legally blind, vision is basically our weakest sense. It just is. So, in the Federation we believe that it's better to focus on the strengths that you have and the strongest senses, and really hone into those so you can become quite confident using those. Then later you can totally incorporate your vision and it's very, very useful. I have residual vision and it's extremely useful to me. But, it's not useful to me when I'm relying on it entirely and straining, trying to read something that I can barely read or trying to look for something that I can't see – that's not helpful at all. Vision is useful when I'm using it as one extra tool. That's one of the reasons we train under sleepshades. It's also so people can focus in on those senses because when you don't have those sleepshades on, you just use your sight, you can't help it. If it's there, you use it – even when it gets you into trouble. And believe me, it still gets me into trouble. After training, I still do get into trouble using my sight. It's really hard not to use it when you have it.
Danielle:
When I was first working with Gina, she was not fond of sleepshades. Because of teaching other students, I was like, "Alright, we won't use sleepshades right away. I'll show you how to use the cane." She said, "I'll just close my eyes." And I said, "That's not going to help. Closing your eyes doesn't work because you still have the light coming through your eyelids and it's too easy to open them." So, we slowly worked into it.
Sleepshades should not be a scary thing. They can be very useful, it's just the mindset that people have about them. A lot of times it's the negative connotation that comes with it like, "Oh, I have to wear it all the time." But it's to help you. I obviously had sight at some point, and I had to wear sleepshades. I didn't like wearing them back in those days either, but I do know that they are beneficial. As Gina says, during her training, it wasn't easy. But she now has two powers.
Gina:
And now I feel a little bit more prepared when I do go fully blind too, because I learned the skills as though I was fully blind. So when I lose my sight, using sleepshades has only empowered me. It really has.
I struggle a lot using magnification. Now knowing a bit of Braille, I've labelled my spices, instead of running around, "Where's my magnifying glass? Which spice is this one and which one is this one?"
Audience question:
Do you wear sleepshades for your whole time in Louisiana?
Elizabeth:
No, you wear them from 8 am to 5 pm and you can take them off at lunch. You only wear them when you are actually training.
Gina:
Can I bring up something else that I never touched on about our training? We did a lot of activities. We went bowling. We went whitewater rafting. We went rock climbing, horseback riding and ziplining. We did so much. And we did it all under sleepshades.
I felt very fortunate to have been a part of all those trips and all of those experiences. So now I'm feeling like I can do anything. I can try it and do it. And so, I've experienced a lot of fun things that I never thought I could do. I used to think, "Oh, I'm legally blind. A blind person. We can't do that." Baloney! We can do it and have so much fun in
doing it.
The Road Leads Back Home: The Pacific Training Centre for the Blind
CFB 'Vote of Confidence' 2017 Convention
Elizabeth Lalonde, CFB Secretary and Director of the Pacific Training Centre for the Blind, moderates this panel discussion
Panel participants are: T.J. Evans, Ann Mofatt, Kashmere Bling and Delores Thompson – all are PTCB students or former students.
Elizabeth:
I'm going to start by giving a brief explanation or background on the Pacific Training Centre for the Blind.
This is one of my favourite quotes from James Omvig, a prominent National Federation of the Blind scholar: "A successful blindness training centre must instill a belief in its students that blind people are simply normal people who cannot see, and that the average blind person can live a normal life and compete on terms of absolute equality with people who are sighted, if given proper training and opportunity."
I started the Pacific Training Centre for the Blind in 2011. This was following my sojourn at the Louisiana Center for the Blind in 2009 – 2010, though the concept had been in my mind for a long time prior to that.
When I first learned from Paul and Mary Ellen Gabias about the intensive training centres that existed in the United States, I couldn't believe it. I knew we needed something like them in Canada. In the U.S. they have three National Federation of the Blind (NFB) training centres, which CFB has been talking about for a long time. They also have other centres, some state run, some are other non-profits – and almost every state has something. I mean, there's different degrees of how good they are, but they do have them almost in every state. Some states even have two.
So, I knew we needed something like that in Canada. And in the U.S., blind people can, at least now and hopefully that will remain the same, get rehabilitation for free from the government. In Canada, there is little to no public funding from government for blindness rehabilitation. That's starting to change a little bit but not much yet.
When you lose your sight in Canada you receive very little in the way of training. You are handed a white cane and given a few cane lessons and maybe a few cooking lessons – and some people don't even get that. There's nothing regular or systematic, nor any group program. So blind people all over, in various organizations including ours, are doing a lot of advocacy to try to change this, but so far nothing really significant has changed. So I wanted to do something to make a change, at least to make a start – to demonstrate a model of training that works – and also just to feel like I was doing something tangible.
The Pacific Training Centre for the Blind is a grass-roots organization. It's based in Victoria, B.C. We're community focused, accountable to the people we serve and most of our funds are spent on direct program delivery.
Our Mission: PTCB is committed to empowering its students to achieve independence, employment, equality and first-class citizenship by offering cutting-edge blindness skills training based on a positive, proven, world-renowned model. Teachers instill a belief in blind people's capabilities and in the limitless possibilities open to them, and adopt a non-custodial approach. It's not about sighted people doing things for the blind, it's about blind people doing things for themselves. And it's about blind teachers working with blind students to increase skills and confidence.
Our Vision: Blind people empowering blind people to be employed, independent and free.
Our main program is called Blind People in Charge and our centre provides this right now three days a week at the Victoria Disability Resource Centre on Fort Street. As far as I know, it's pretty much the only program of its kind in western Canada that offers regular blindness training to people who are blind or are losing their vision. It's also the only program that uses an empowering, problem-solving method of instruction where blind people are the teachers, planners, directors and administrators. The program involves a collaborative, positive and empowering approach to blindness in which blind people learn from each other in a supportive, can-do atmosphere.
Instructors teach non-visual independent skills, such as Braille, cane travel, adaptive technology, cooking and other life skills, and develop positive strategies for living without sight. We also work with students to find volunteer opportunities, job shadows, accessing community resources like housing, financial support, and other essential services.
The model we use is pretty ground-breaking in Canada. It's the approach we talked about in the previous panel. (See: "On the Road to Rehabilitation" in this issue.) The academic term is called "structured discovery" and it's very different from the traditional route-based method where you teach someone so they learn and memorize a route, and then if they want to learn somewhere else, they have to go get help and learn and memorize that. That's what we're familiar with here in Canada.
But, our model at PTCB is based on the National Federation of the Blind in the United States, and their success is really confirmed by "the proof is in the pudding". And, they're doing a lot of academic research now to back them up. There's actually now a master's program in Louisiana, started, designed and run by blind people, where you can go and learn and get your master's degree in cane travel instruction, rehabilitation and Unified English Braille certification. You can be sighted. Mary Ellen's daughter is sighted and she graduated last year from that master's program. She's now teaching blind people in Arizona and she works a lot under blindfold. She trained entirely under blindfold.
Gina:
She was my instructor when I first started training at the Louisiana Center for the Blind.
Elizabeth:
We have some amazing students. I'm just going to talk about sleepshades. We wear sleepshades so we can focus on our other senses, without the distraction of limited vision, and it also helps to build confidence and teaches students that they can truly do things independently without sight. When students develop their non-visual skills then they can reincorporate their vision and use it when it's helpful and use their other senses when that would be more productive. For example, even though I still use my residual vision quite a bit in my daily life, I know now, that when I need to, I can accomplish the same activities without any sight at all. I often switch from visual to non-visual techniques throughout the day. Often I have to tell myself to switch over to a non-visual skill because I know it will work better in a certain situation – for example, at night or in dimly lit rooms when I pretty much have no sight; or when I'm doing something like preparing a meal and trying to find something on a table, then it's much more efficient to use my sense of touch. Or when I walk into a store and want to find the cashier counter, it's much easier just to listen to the sound of the cash register than try to strain and see if I can see some shadow that might indicate a counter.
The "Blind People in Charge" program seeks to address the high unemployment rate of blind Canadians (which is 80% or more), isolation, and the severe lack of intensive rehabilitation available to blind Canadians. We provide this program free of charge.
Our funds are limited. We receive some donations. We organize fundraisers. We've recently received grants from the Victoria White Cane Club, BC Gaming, Victoria Foundation, Vancity, Pacific Blue Cross and Uniform and Medicine Centre Pharmacies Charitable Foundation. We get contracts occasionally on an individual student basis. We also build partners in the community, which is really important. For example, we've partnered with the Neil Squire Society, the Victoria Disability Resource Centre, and the Disability Alliance of B.C.
So now, the most important part of this. I want to call our students up to the podium. I've asked them and they've been so kind to come today and talk about their experiences at the centre and their personal stories and what the training has done for them. T.J. would you like to start?
T.J.:
Hello everybody. My name is Thomas John Evans. Everybody calls me T.J. I'm one of the students from the Pacific Training Centre. I came to them a couple years ago. I was on the transition side – I've still got some sight but basically the type of sight I've got is not functional. I see a bit of light and it's also what gets me into trouble because it gives me severe migraines on top of everything. I went from almost not knowing where I was going or what I was going to do. I was trying to give myself my own training because no other place would help me as I had very limited funds and I had even less than I do now.
But PTCB very kindly said, "No, we're going to help you out." And they've taught me so much and given me a lot of encouragement and direction in things that I did not know – cane travel, for instance. They taught me the techniques and the other skills that go along with cane travel – the auditory, the vibrations, and basically gave me the motivation I needed to do a lot of stuff on my own. They helped me with independence training like life skills, how to develop and rely on my other senses – tactile-wise/what I'm feeling; auditory-wise/what I'm hearing; my sense of direction.
Even though I had a fairly good basis on some of that, they taught me how to refine and focus. They also gave me a proper cane, whereas before I was trying to use a short piece of bamboo. Picture that one. That was quite interesting trying to get myself around with that. They actually gave me a proper cane that was fitted to my height. They taught me the other proper techniques and they gave me a little kick in the butt when I needed it.
One of the first people that helped me with the cane travel was Danielle Frampton (Fernandez) and one of the chief things she taught me was not to be afraid of bumping into things – even when I tried once to lay down in a planter! She told me, "Come on. Get up. Stop resting. Let's go." In the way of the encouragement, the way of making you feel that you're not alone, these people do a great deal and so much more than I can even tell. And they give you such a boost. Even when they're not teaching you, they're teaching you something.
Elizabeth:
We're so proud of you T.J. You work so hard and you have such a good attitude. Thank you so much. Now I'd like to call upon Ann Mofatt who started with us at the training centre four months ago. Ann is exceptional. We really do believe that she is our model student. She's got a fabulous attitude and we're really happy to have her at the centre.
Ann:
My name is Ann Mofatt. I'm an 80-year-old woman with macular degeneration. I still have some sight. I can travel by bus and I can more or less take care of my home and make meals for my 85-year-old husband and myself.
I've been going one day a week to the training centre since Christmas. Since I started at the Pacific Training Centre, my whole perspective on my deteriorating eyesight has really changed. I don't worry much about the future anymore because using the skills I'm learning, I'll remain independent and I will adapt to life as my eyes change. Although I still do everything I can to maintain my vision – I do my eye exercises almost daily to keep my eye muscles strong so I can focus well, and I take my recommended supplements, and I'm very careful not to over-strain my eyes.
I was interested in hearing about the difference between the maximum and the optimal use of eyesight in the previous panel discussion, and my life is really much more comfortable now that I've moved from maximum use of eyes to what may be a more optimal stage. And, I love the training centre's approach which is to stop relying on sight quite so much and to develop other senses – hearing, touching, smelling, even tasting. So I'm using them instead of relying on sight. I now listen mindfully to the movement of traffic as I practise using a cane and find my way along the streets of Victoria – which are not very simple and they're very, very busy, I'm sure, compared to a little town like Duncan might be. It can be absolutely terrifying when you put those blindfolds on at first. But I'm getting better at it now and I'm moving faster, which helps me to stay straight.
I use Siri and VoiceOver on my iPad to read and write emails, search the web, and to keep up with the new technology, which isn't easy at my age I can tell you. I've discovered that my hands and fingers have a kind of cellular memory that enables me to do many familiar tasks without needing to look. Tasks like preparing vegetables, finding the right coin or bill when I need to pay for something, threading a needle, and sewing on a button (which we did the other week) and making simple repairs to clothes. Often I find I don't bother to put a light on anymore – I just do it by feel.
Learning Braille challenges my brain and I actually find this exciting as I think of the new neurons being connected together in my old brain, rejuvenating it and helping to keep dementia at bay.
My problems are probably quite a bit different from the rest of you in this room, but they are very important to me. Trying to feel and differentiate the little bumps to read the letters, words, and now, even short sentences, is very slowly bringing a whole new sensitivity to my arthritic fingers. As well as being able to read, I'm able to make labels for my kitchen containers – those elusive spice jars that somebody was talking about earlier, they're now at my fingertips with Braille labels.
Perhaps best of all, is the optimistic way that Elizabeth and Linda and Sky have helped me to approach problems. They see them as just another challenge that can be overcome with a little thought and ingenuity. I could go on and on about the new things I'm learning and we've heard most of them already today, so I won't keep going on that one. The Pacific Training Centre is providing an exciting journey for me.
I'll end by saying that I think that I'm really incredibly lucky to be able to learn these new skills while still having some sight. It is helping me to make a much smoother transition. I know that losing my vision now doesn't mean that I have to cut out important activities. I just know that I will always be able to do what I want to do. I just have to find another way of doing it. So, thank you.
Elizabeth:
Well, thank you so much Ann. That was incredible. Wow. I would now like to call upon Kashmere Bling. I just want to cry. Kashmere came to us a few months ago too and I will let her tell her story, but I'm just so proud that she comes to the centre and that she is really making an effort to learn different ways and different approaches, so thank you Kashmere.
Kashmere:
My name is Kashmere Crystal Bling. It's very hard for me, but actually I'm doing pretty well, I feel. I've been a model all my life and I like to be looked at as a beautiful woman. But I once thought that using a white cane would make me feel ugly and look ugly. But actually, it didn't.
I had to go away for a month to two weddings, one in Florida and one in New York. Going there alone was a challenge. But, thank god, I met Elizabeth and her school and everyone.
I've always told people that I would never use a white cane. "No, no, no, that's not going to be me." But I had no choice. So I did get my cane. I practised with it and learned how to use the stairs, which was challenging but I did it. Thank you Elizabeth. That was a lot of work, but it was great. Walking out in the streets was fun. I also hit a homeless man with my cane on the ground that I did not know. But hey, we experienced it. It was an experience, but it was something that I had to do because it's going to happen – it could be a homeless person or it could be someone else, right?
So, my U.S. trip challenge was going to the airport. I went around Christmas. I took my cane out. Oh, there's one thing I forgot to mention. Being that my name is Bling, I'm all blinged out, I'm wearing all bling on my clothes, but my girlfriends were like, "Well, what can we do to make you use your cane?" I said, "I don't know." So they took my cane and surprised me. They blinged it out. It has bling on the top, it has gold (my favourite colour), then white, then silver. Some of you may not know that I'm hearing impaired too. I wear hearing aids. I have retinitis pigmentosa (RP) and Usher's Syndrome, so I see only through a pinhole in one eye and it's blurry, the other eye unfortunately I lost in surgery. So the cool thing is, I found out in London, England about how they identify deaf-blind people – they have some red on their white canes – the red with the white symbolizes visually and hearing impaired. So my cane is striped in bling, gold, white, silver, gold, red, black and the same colours repeated all the way down.
So I took this cane with me to the airport. First time I pulled it out, first time using it in public by myself without a trainer or anyone. I had people come up to me and say, "Oh, my goodness, I love the candy cane." "Oh no, this is my cane. I'm visually impaired." They said, "You are? You don't look it." I said, "Thank you. But no, seriously, I am." One kid got in trouble by the mother. He was like, "Mom, mom, I want that candy cane." Then the mother said, "Shh, shh, shh." And I thought, OK, thank god I had my hearing aids on. I said, "Is it OK ma'am if I approach your son?" She said, "Sure." I said, "Hi, this means…" and I explained my cane to him. He was looking at me. He had questions and I had to think about the answers before he asked me. Then he said, "If you're blind, how did you see me standing here?" "I see a little bit, honey, a little." He said, "OK." Then he said, "If you're deaf, how do you hear me ask you a question?" I said, "I'm not deaf, I'm hearing impaired."
That was my first time. Honestly, I was scared to use the cane and that's the truth. I didn't used to feel beautiful with a cane, but then when my friends blinged it out and I had people approach me, I did feel beautiful for the first time in a long time.
So anyways, I navigated, got on the plane and everything was fine. The first wedding I went to was Miami, Florida and I had a bling dress on, of course, and I walked in with my cane. I had more people come up to me and compliment me with my cane, in using it, and how they thought, wow, you navigated so well through this whole entire reception. It was amazing – and I was proud of myself.
Going to New York – oh my gosh. Now, that city is busy, busy, busy. Wearing the hearing aids, it felt like a bomb was going off everywhere – it was just the crowds and the people and the honking. That's a place where you would get scared, but you know, I didn't. I actually got on the busiest street. Don't ask me how, I just did and I brought my cane and I thought, oh, I don't know if I can do it. I've never wanted to ask for help because I am so independent, but I was always scared to take that step forward. But, you know what? I walked straight through the downtown. I was walking and I was proud. Some people that I didn't know were videotaping me. They actually told me so. They said, "You know what? I had to come up to you and say I videotaped you. Do you mind if I share this with my friends because I've never seen anyone so smiling and looking so good and so confident with their cane." And I was proud of myself too, because I didn't think I could do that. And I have to say, using the cane is important.
And I'm going to say something else that I learned. Being a model, I love shopping and then I stopped doing that because I was scared – I couldn't see what I was doing; I was not giving the right amount of money; I was losing money; I was getting frustrated in the stores – and I couldn't do it. That's what I said, "I couldn't, I couldn't, I couldn't."
Since Elizabeth and the staff had taught me how to read money, it was amazing. I was so excited. I go to a motorcycle group that's called a Thursday Night Bike Club and we sit there and they all support me, "How's school? We're glad you're using your cane.
We're happy for you" and all that. I said, "You guys want to learn something?" And I didn't think I'd ever be able to do this. I said, "Do you guys want to learn how to read money?" They said, "What?" I said, "Yeah." So, I've got the fives, the tens, twenties, fifties and a hundred. They said, "She did learn." They were so impressed with the short amount of time that I went to school and before I used to tell them, "I don't want to go to the school, I don't want to go, I don't want to do this." You know, I was so negative. I'll tell you one thing, just by listening to how many people actually listened to me – I passed the money around, they were all like, "Oh, my god, this is exciting." And then they asked, "What about coins?" I showed them. It was interesting and I was proud of myself. And that's what I'm saying – I'm proud that I finally got out of my shell.
I've been well-known in the mall because I shop there. So for years, as soon as the security guards see me, they say, "OK, Kash, where would you like to go?" And, he'll walk me and say, "Call me and I'll come and get you." You know what? It takes about 20 or 30 minutes before I get someone to come and pick me back up. Now that I have the cane, girlfriends, guys, you know what? I walk in there proud, I'm in and out of the mall within 20 minutes. Before I'd be in there maybe for three hours. I know where I'm going so now I don't need to wait for security's help.
Now I use my cane and I can pay money without being ripped off, you know? And, it feels good. So, thank you so much to the Pacific Training Centre. I love it and I hope everybody else that wants to learn will go to this school. It takes time, I mean, I'm still struggling with the sleepshades. But, listening to everybody's stories, what you guys have said, I am feeling that too. Thank you for letting me share my story.
Elizabeth:
Thank you so much. I've one more person, Delores Thompson. Delores is truly awesome and invincible. We're so grateful that Delores can come to our centre and I'm going to let her tell her story.
Delores:
Hi people. I'm Delores Thompson. I used to live in Nanaimo, B.C. My parents had 10 children and I am the only one who is totally blind. I lost my sight when I was eight years old. I couldn't see colours when I was five. I got told that I couldn't do this and couldn't do that. I was 36 years old when I moved out of my mom's house. Needless to say, I then got into a group home and have been there for 26 years.
I heard about this program and I thought, "Hmm, maybe I should try this and see what I can learn from it." So I went. At first, the centre was at the Scout Hall. I met Elizabeth Lalonde and Linda Bartram, who is another teacher of ours, and of course, I met Danielle Frampton (Fernandez). Both Elizabeth and Danielle taught me some things that I didn't know before. I'm also learning to use a computer, which I never did have a chance to learn. I am one who gets frustrated travelling out on the street. I haven't accomplished that one yet, but I will. That's just me, I'm a cheeky one and I'm glad I've come to the Pacific Training Centre. They've also helped me learn how to use a knife and how to cook on the stove and all the things that a blind person can learn. So, thank you very much.
Elizabeth:
Wow, I think maybe all the Pacific Training Centre students can be public speakers now. Well, thank you so much. I'm just so emotional now and in awe of all these tremendous people and for your courage to come and try and open your mind to a new way of doing things and I'm just so proud of all of you. Thank you.
Free As a Butterfly: My Blindness Rehabilitation Journey
By Gina Huylenbroeck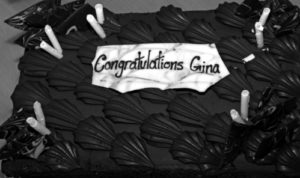 Editor's note: On January 25, 2017, friends, family and members of CFB gathered at Paul's Restaurant in Victoria, B.C. to celebrate Gina's successful completion of the nine-month training program at the Louisiana Center for the Blind. Gina gave an interesting and inspiring presentation about her experiences there and also showed us a beautiful set of nesting boxes that she handcrafted in wood shop while there. Chocolate cake added to the celebration, the icing on top cheering "Congratulations Gina!" Here is her journey:
Like the butterfly, I started life in a cocoon. Like that butterfly, I was able to physically leave that cocoon when conditions were perfect. But in reality, it was a mental cocoon that I needed to break out of. I was stretching, struggling and knew that there was a bigger world out there waiting for me to discover and experience. It took strength, determination and the willingness to risk being vulnerable within myself and with others to start the journey.
My name is Gina and in 1992 I was diagnosed with progressive cone dystrophy. This is a gradual deterioration of my central vision and I have blind spots throughout my peripheral vision. Despite my declining sight, I have been working in the restaurant industry for the last 27 years and managed as a single parent to raise a smart, capable and beautiful daughter. In 2015 I accepted the fact I was losing my vision and that was the moment I took the initiative to break out of my mental cocoon.
I had made acquaintances with two independent, confident and self-motivated blind women whose skills for managing life with blindness were inspiring. It was these women who encouraged me to gain my own non-visual techniques so that I could not only change my destiny but embrace it with joy and wonder.
Elizabeth Lalonde is one of those women. She started and is the Director of the Pacific Training Centre for the Blind, a part-time blindness training program here in Victoria, B.C., which I signed up for. Danielle Frampton (Fernandez) was an instructor at the same centre and she introduced me to sleepshades (a blindfold) and the techniques for holding my white cane.
The latter was a bit of a struggle with pride for me as I did not want to draw attention to myself. As I used the cane more, I felt confident and for the first time in a long time I was walking with ease. I stopped looking down all the time and let the cane be my guide through curbs or any other obstacles in my path.
I also started to study Braille and became familiar with screen reader applications for computers that dictate text aloud. I had definitely gained skills and built up my confidence; however, due to each of the classes having a short duration and only being biweekly, I feared that I would not be able to learn enough to be prepared for my life without vision.
Much to my shock and dismay, I found out that there were, in fact, no full-time training programs in this field available in Canada. The only option available, if I wanted to learn these very important life skills in a timely manner, was to look to the United States where there are three training centres of the National Federation of the Blind (NFB). I chose the Louisiana Center for the Blind (LCB) as it is very reputable and it was also where Danielle and Elizabeth, who had both inspired me so much, had received their training.
LCB is a privately operated residential facility which is staffed primarily by highly qualified professionals who also happen to be blind. This centre provides a very innovative orientation and rehabilitation training program – with positive philosophy around blindness being an integral part. This centre has been recognized not only on a national level, but internationally as well – for its positive philosophy plus its mandate which is to provide its students with confidence to experience life to its fullest via five main areas of instructional focus: independent cane travel, computer skills, home economics, reading and writing Braille, and home maintenance and wood shop.
Right from the beginning I was confronted with huge challenges in making arrangements to go, as there were numerous obstacles that needed to be overcome. This program is not covered by any of our country's numerous healthcare or social programs, so I had to provide the funds to achieve this training on my own. I live in subsidized housing that has very stringent rules regarding tenants not being allowed to leave their suites vacant longer than a six-month duration – and the training I needed was nine months. In addition to this, I was told by the B.C. Ministry of Social Services that if I left the province for more than 30 days I would forfeit any benefits that I would receive from them. Thankfully with the assistance from an advocate, I was able to fight for this, which I feel should be a right to all Canadians confronted with this situation – as it allows one to live independently, care for, and provide for oneself. It was a battle well worth fighting as in the end I was eventually given the green light by the government and my housing management to go and not lose everything in the process.
The training program carried a hefty price tag of $3,500 per month. Thankfully, being an international student, the centre only required me to pay $1,000 US per month for training. On top of the tuition, I was responsible for travel costs, medical insurance, day-to-day living expenses, as well as my rent and other expenses back home in Victoria – which totalled approximately $28,000.
On April 4, 2016 I started attending the Louisiana Center for the Blind. I had asked for more intensive training and that's definitely what they were providing – to the point where initially I found it almost overwhelming, but I was determined.
The housing we were provided was an ordinary two-bedroom apartment about 3/4 of a mile from the training centre and we were paired with a fellow student as a roommate. At first, we were shuttled back and forth to the centre by bus until the instructor was satisfied with our abilities and then we were kicked off the bus and required to travel by foot regardless of weather conditions. I was required to wear sleepshades for the duration of my training in order for me to truly experience how to do things as a blind person. I admit, it was quite scary at first.
It's kind of funny – we all think of America as being the source of so much of our popular culture and a lot of the products we use on a daily basis; however, there was some culture shock involved in my moving to Ruston, Louisiana by myself. Leaving behind my daughter, boyfriend, family, friends, as well the job that I had worked at for 27 years was definitely breaking out of my comfort zone and a little frightening. I'll admit, there were some tears and overwhelming emotions on an almost daily basis for the first few months.
Training was very hard work physically and mentally while still being 100% worth it. I felt the only way to develop as a person was to go through a metamorphosis: breaking free from our cocoons and facing the challenges that we are confronted with. Luckily, in addition to my own personal strength, I was provided with a top-notch support system. My new team and I pushed ourselves constantly as we passed both small and large milestones – and with time and practice, practice, practice, the tears and frustration faded. Now I would like to share in detail what each of the centre's five areas of focus entailed.
Cane Travel
Cane travel consisted of learning how to correctly hold and manipulate a white cane to maximize awareness of obstacles and other things that can be used to direct oneself. I did have a bit of an advantage in this area as I had previously received some training from the Pacific Training Centre for the Blind. I was able to quickly adapt to the new cane techniques I was learning, such as "the pencil grip" and "open palm". Once I felt satisfied with my abilities indoors, I ventured outdoors where I went from simply walking back and forth in front of the centre to actually crossing streets and finding addresses. We crossed the massive Interstate highway and service roads, which were scary propositions – even for people with full sight. Feeling the direction in which the sun's warmth hits us is a means to position ourselves to use cardinal directions (North, South, East and West). In addition to that method, we collect information from other stimuli to use as landmarks, such as smells, sounds and ground textures that we detect with our canes.
Once you have fully familiarized yourself with the city, you are given your first of four drop routes. On your first drop you are accompanied by your instructor. After that you're on your own. The location you're dropped at is completely unknown to you and it is your task to return to the centre without the help of any technology or help from people, such as asking for directions. This is all in preparation for two final major assignments which are a 10-kilometer solo journey in Ruston, and a trip to another foreign city–completely planned independently and unescorted. For the out-of-town trip, you are required to use public transit and visit two different destinations while there. You are provided with $150 for transportation and the same amount for accommodations. I chose Shreveport, Louisiana for my adventure and while there visited a restaurant that had been recommended to me and a visit to a spa. At the beginning I was terrified, but then referred to my training and all was well. The sounds and the traffic then became friendly guides helping me to walk straight and safely cross roads while on route to my destinations.
Computer Technology
Computer technology is where they teach you to utilize a PC without a screen or mouse. We learned to navigate a computer using only keyboard commands and a screen reader. I found this to be particularly difficult as I had to rely on my listening skills and really concentrate because the computer voice was somewhat difficult to understand. I found that I was jumping the gun a lot and making my keystrokes before listening to everything being said. After time and, yes, practice, things clicked for me and the next thing I knew I was writing in Microsoft Word, copying, pasting, creating files, surfing the web and corresponding with people via email. Prior to this training I was using a text magnification program called ZoomText for a limited number of things and relied heavily on desktop shortcuts that a friend had set up for me. I am now able to navigate a computer more independently.
Home Economics
Home economics was where my cooking skills took a gigantic leap forward. I had, of course, always prepared basic meals for my daughter and myself, but nothing so elaborate or on a scale this large. Within no time I was preparing entire meals from scratch. There was a huge list of prerequisite dishes to prepare before heading into our final assignments. These dishes were: roasted chicken, casseroles, stews, soups, cakes, cookies, waffles, bread, pizza and even ice cream. The equipment we were taught to use included: gas stoves, deep fryers, clam shell grills (like the one George Foreman made famous) and rice cookers. We used a talking thermometer to check our temperatures. We used completely unmodified equipment while cooking. That's right, real fire from hot coals or gas in our barbeques.
After mastering a myriad of recipes it was then time for our first big assignment which was to prepare a multi-course meal for eight people. This was to be all my doing completely from start to finish – meaning, I had to shop for all the ingredients, prepare the multi-course meal and beverage, then serve it. In addition, I had to do all the clean up afterwards. For this assignment I served crackers with cream cheese and peppered jelly, spinach salad, beef stroganoff with egg noodles, warm garlic and herb whole wheat buns. For dessert I served warm chocolate brownies topped with vanilla ice cream and fresh strawberries. My drink was a Shirley Temple, Canadian style. (You can see Gina's recipes on pages 49-51.)
My final assignment was to do the same thing again but this time for 40 guests. Once again I was solely responsible for this project. The only difference is that it was served buffet style, with the students and staff serving themselves. For this meal I served chicken and vegetable Thai curry on rice, spinach, strawberry and almond salad with raspberry vinaigrette, five loaves of focaccia bread (one of them gluten free). I made two pans of brownies, plus one more pan of diabetic-friendly brownies–and strawberry lemonade to wash it all down.
Other helpful things we learned in home economics included how to write and sign one's name, how to iron and fold laundry, thread a needle, sew on a button and do a hemming stitch, tie a tie, tie and polish shoes, light a candle and write out a budget. When we weren't at the centre we were also responsible for the cleaning and maintenance of our apartments which were inspected for grading every two weeks.
Braille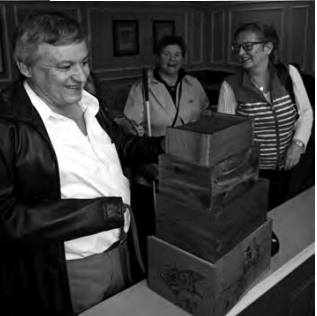 Braille starts with an excellent introductory book called McDuffie Reader. It goes through letters, numbers, punctuations, and the system of contractions. Once you progress past this primer, it's time to pick your own selections to read, which allow you to improve your speed. I must admit, out of all the training I received at the centre, this one posed the biggest challenge. I found the dots difficult to feel with my fingers. I can recite their placement, but perhaps after 27 years of slinging hot plates, my fingertip sensitivity may not be that acute. I am able to write with the standard slate and stylus method–I flip the paper over inserting it into the slate, make indents on the back of it from right to left with the stylus. After completion, the paper is taken out of the slate and reversed so that the dots may be read from the front of the page left to right. I can now label my spices, write out recipes or take notes. Reading and writing definitely are not my favourite pastimes anymore, but I'm grateful to have this ability for practical purposes.
Home Maintenance and Wood Shop
Out of all the training I received at the centre, this was my favourite. I really enjoyed the woodwork portion of class. It felt really rewarding to be able to make something with my own hands. Starting right at the basics, we learned how to use a click ruler, which is the equivalent to a measuring tape. Then we learned how to safely operate a variety of power tools that are not modified for blindness in any way. Tools like radial arm saws, table and band saws, routers, sanders, planers and joiners. After being introduced to all the tools, we started a small woodwork project just to further acquaint ourselves with the tools and machinery.
Then studies took a turn into the area of actual household maintenance and repairs for a while. The scope of this class was amazing and as a result I feel better equipped to take care of things in my home. We were shown how to change a deadbolt and door handle lock, label an electrical box, hook up a clothes washer and dryer, plus how to turn off a gas valve at the meter. The next thing I knew I was a lady plumber. I can unclog a sink or toilet, remove the elbow joint in a drain to retrieve lost jewelry. I can even change the parts inside my toilet tank should it start acting up!
Once we feel at home with the woodworking tools we do a timed project similar to the previous project but with different measurements. For our final assignment we were given free choice. I wanted something that I could bring home with ease, so I chose to make a set of nesting boxes, each having one-eighth of an inch clearance between them. I loved this class so much that I did not want to leave. My set of four nesting boxes turned into a pair. In the end I made 13 boxes. My instructor said that I have sawdust in my veins!
In addition to all the classroom lessons, the centre also took us on a number of field trips that one would better describe as real life adventures which demonstrate to each student that we are just as capable out in the world as people with vision are. Of course, this had a very positive effect on our self-esteem and we flourished within our support system. During the month of August we visited Tennessee where we played paintball, ran a ropes obstacle course, went whitewater rafting in class-four rapids, plus hiked to the top of Lookout Mountain. We ventured to Arkansas in October where we hiked up a mountain, climbed a rock face near the top, then rappelled down it, rode a 2,300-ft zip line and went horseback riding while staying at the Horseshoe Canyon Ranch. All of these adventures were reality lessons teaching us that despite not being able to see, we are strong, smart and independent people who are capable of doing almost anything if we don't allow fear to set limits for us.
On December 16, 2016 my dear friend, Patrina, and I graduated together. The graduation ceremony is a huge affair. We sat at the front of the library with the Director of LCB, Pam Allen, while she spoke of our journey to the centre, our training and future plans. Next all the instructors spoke about our presence in their classes, our struggles and joys. After that fellow students had the opportunity to share stories, comments and share memories. Then it was my turn to speak and share with everyone.
The ceremony is our personal affirmation of all we accomplished. I cried with pride for each grad. I knew what they had to go through to get to that stage – a lot of hard work mentally, physically and emotionally. We all received an engraved freedom bell with our name and graduation date. Afterwards, we trooped outside to ring the centre's big brass bell 31 times (one ring for every year open). Then the graduates chose a restaurant and everyone was welcome to go.
I'm grateful that The Blind Canadian magazine has allowed me to share my experiences at the Louisiana Center for the Blind. My wish is to stimulate discussion amongst the powers that be in Canada, and that they will in turn encourage every blind citizen to live the life they want and can, with independence and pride. I want to effect change for future generations, giving them what they need to create and fulfill their own dreams. We need to use our voices now to educate government, teachers and the general public about the state of vision impairment in Canada. Our Canadian society has such low expectations of our blind citizens. We have been enabling many of our blind by sheltering them or placing them into group homes. Let's better prepare them for life and direct them toward universities and colleges and into well-paying jobs. There is no reason why we cannot have training centres in Canada staffed with the same caring, competent professionals that I have encountered in the United States. Prior to meeting Elizabeth and Danielle I was unaware I had options – and now I feel like the sky is the limit and that I'm as free as a butterfly.
I want to thank everyone who has helped make this training possible for me. Thank you to the Canadian Federation of the Blind, Thelma, Daryl and to everyone who donated to my gofundme campaign. Thank you to my family and friends and to my Louisiana Center for the Blind family. Thank you for your support. I'm truly blessed! If I can inspire and encourage even one caterpillar to make a leap of faith, breaking free from their cocoon, then I will feel all my hard work was worth it!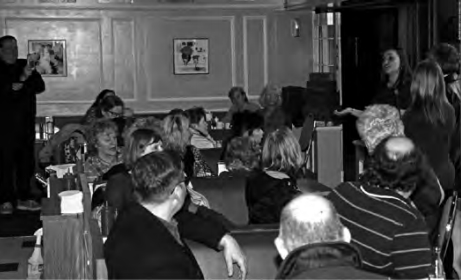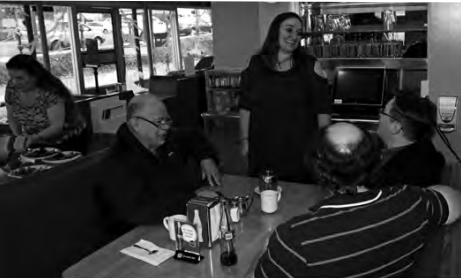 Promoting Digital Freedom: Report of the CFB/ Lions iPhone Project for the Blind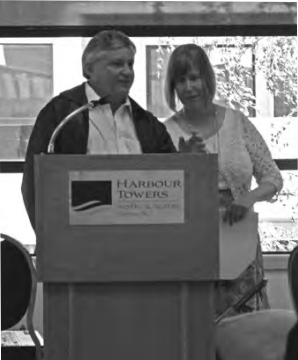 Presented by Oriano Belusic, CFB Vice President, at the CFB 'Vote of Confidence' 2017 Convention
Good morning everybody. A few words about the CFB/ Lions iPhone project. You know, for me, it's all about independence. Every little bit that people can do to increase and improve their independence – that's what it's all about.
Four years ago, a fellow Lion read an article in the Lions magazine that mentioned the iPhone and what a useful tool it is for the blind. Of course, I was a bit of a skeptic and said, "This stupid thing – it has a flat, non-tactile, buttonless screen." I was a late convert to the iPhone phenomenon. But I said to him, "No, fair enough. We'll bring the iPhone project idea to our Lions club."
So, the project idea wasn't really pushed by me, although I quickly went along with it because I started noticing that all sorts of blind folk at conventions and different places were using iPhones. I think, that year, when I was at the U.S. NFB convention, there was a handful of people using iPhones. But within a year or two, I don't think there was a single person at the convention without an iPhone. So I don't know what happened. The Lions have recognized the iPhone as a very useful tool for blind people's independence.
For years and years, Lions have been purchasing very expensive equipment for blind people, like $10,000 OpenBook reading systems or Kurzweil reading systems and talking computers for doing email and to stay connected with all the social media that's out there.
I quite often explain to Lions clubs, where we go and do some fundraising, that this $600-$700 iPhone can actually replace a lot of those tools that are dedicated, specifically built for the blind and quite costly. The iPhone is not specifically built for the blind, but it happens to have VoiceOver speech in it which makes it extremely useful to the blind – right out of the box.
The Lions fundraise to purchase the iPhones. I'll just give you some quick stats. We've placed 36 of them to date in the last four years, so that's 36 blind people that have iPhones that might not have had one otherwise, including several people in this room. I have one too, just so I can pretend that I'm in with the crowd.
The fundraising continues. We like to purchase the unlocked version. The reasoning and thinking behind this is that it enables blind people to be flexible on their affordability plans. As you know, a fully functional iPhone with a cell plan and a data plan can be upwards of $75 to $85 a month. A lot of blind people can't afford that. So, some people that are a bit more imaginative can get data plans only, and then get a Voip phone for $20 a month and they manage quite well with that. Other people who have even more severe affordability issues can perhaps just use their iPhone on WiFi.
But nevertheless, it's a tool that improves the blind's independence. We want the tool to improve your independence. If it helps you get a job – I know there's some people who use it for their work – it's an important thing.
On the other hand, if you're the kind of person that can afford the $75 to $85 per month data plan, rather than coming for the free ones from the Lions, you can quite often get an iPhone almost financed for free. I just throw that in because sometimes that option is out there and the Lions do work very hard to get the money. I think we've put about $25,000 into this project so far. But, if you know of a blind person who has real challenges with affordability and getting an iPhone, let them know.
We all know now that a blind person can benefit by having an iPhone – whether it's a light sensor that you use in a hotel room to find out if all the darn lights are on or off, or whether it's the WhereAmI app, or whatever it is, we all know it's a very useful tool. We encourage people to apply.
There's all kinds of great plan deals out there. I know of people that have a Fido data-only plan for $15 a month and they have a Voip phone and they have a gig of data. So there are options. There are ways of getting a good deal, but you have to really search them out. Hunt around. There is money to be saved whether you have affordability challenges or not, everybody does to some degree or another. Paying $45 a month or paying $85 a month does add up. If you want to learn more about the iPhone project, check it out on the cfb.ca webpage and feel free to encourage a fellow blind person to apply. Thank you.
Let Your Light Shine Building Confidence Through Volunteering: A Panel Discusssion
CFB 'Vote of Confidence' 2017 Convention
Donna Hudon, CFB Member-at-large, moderates this panel discussion Panel: Donna Hudon, Maria Kovacs, Erin Lacharity.
Donna:
My name is Donna Hudon and I'm from Nanaimo, B.C. I'm going to be introducing the topic of volunteering. Volunteering is when you offer your service or your efforts, your person, without being monetarily benefited. There's many reasons why I find that volunteering is beneficial or has been beneficial for me personally. One thing is, even if I have education, I don't have the experience, and many jobs are asking for that experience. Volunteering is a way of getting that experience on my resume. Currently my resume has a lot of volunteering experience on it and employers look at that. If you are volunteering, it's better than staying at home. It's giving you experience. The other thing that volunteering is doing is getting you out and being involved in your community. Whether you are offering your intellect or offering your physical capabilities, you are helping your community in a capacity that's much more beneficial than just sitting at home.
I've done volunteering for things like my PAC (Parent Advisory Committee for schools) because I have a 16 year old and an 18 year old now, which benefited children and my children. And I've also done volunteering more recently with the Haven Society, which is a home for battered and abused women. My most recent endeavour is that I've signed up for what we call the Nanaimo Food Share. Let's say you have fruit trees or nut trees in your yard, but you're not going to pick them. What they offer in our community is people who will go out and pick those. One third of it they will keep themselves, a third of it they will offer to the individual who has the fruit or nut trees, and a third of it is offered to our community food share programs.
Sometimes it was very difficult for me to encourage people to hire me or to let me have that chance to volunteer, because just like employers, there's many times where people are seeing your limitations, even if you don't have them. So, it's important to just tell them, "Look. I want to try. Just give me an opportunity." And if you get the response of "no", then just keep on going and ask the next person.
I'd like to introduce Maria Kovacs.
Maria:
Hi. For those of you who don't know me, I'm Maria Kovacs from Maple Ridge, B.C. I've been a volunteer for the past 23 years. Before 1990, I was able to see and held very nice positions, but as I lost my sight it became impossible to find a job. I tried for over three years to find a job and couldn't, so I decided to start volunteering. I like volunteering, but I'm not totally happy that I work more now than I ever worked for payment. And it seems to me that every time I turn around there seems to be something new there for me to do; and the minute if I ask for a job – which I have asked – I actually know now after quitting – that a sighted person is paid for doing it. So that is sort of hurtful. But you have two choices: stay home or expand your horizons and go out and volunteer. That's what I've been doing.
I also do volunteer work on my own. You've heard about the bike problem in Maple Ridge? My response to it was very successful because we are now getting bike lanes and bikes are going to end up off the sidewalk and into their own spot. So, I volunteer like that quite a bit. And you also heard about Fraser Health Authority, which now provides accessible homecare plans, such as Braille or CD, to blind people who are caregivers (for example, a caregiver for an elderly parent). Things don't actually come easy. You have to speak your mind and ask for it. I am in the process now of asking for these plans for another person and I thought it would have been a little simpler now than what it is. It is possible, it is there. For anyone that needs it, all they have to do is just fight a little bit for it and you'll get it. OK, I think I've said all I need to say.
Donna:
Thank you Maria. It's amazing. I just want to point out that Maria might not always like volunteering, but she's making a difference in people's lives and she's changing policy while she's doing that. So, thank you. Now I'm going to introduce Erin.
Erin:
I'm Erin Lacharity and I've been volunteering at the Victoria Disability Resource Centre three days a week. I am at the front desk as the receptionist. My job basically is to answer the phone, greet the people as they come in by saying, "How can I help you?" And it really depends on what services they want because if they want advocacy services, we're not an advocacy organization, so we'll refer them to TAPS (Togetherness Against Poverty Society) which is just up the road on Fort St.; or we'll refer them to the Action Committee for People with Disabilities. Or if they want, for instance, there was a woman in the other day who wanted help with some forms, which I referred her to our information referral co-ordinator, by giving her a business card. She also wanted help with her will, and I said, "We don't provide that service. You're probably going to have to go to maybe TAPS or the Law Centre for that, because apparently the Law Centre will help people with legal situations. So, I do that.
But there's also people who sell the Megaphone Magazine. It's sort of a street paper that is sold. So, I will sell the Megaphone, answer the telephones and put clientele through to their business area staff. I also keep stats, so if there's certain issues that come up, I'll just mark on a list, like, one call for this person, two walk-in clients for that person, etc. Sometimes it means getting up from behind my desk to go and find the necessary staff to come and talk to a client who's come in.
I want to tell this story. It was quite scary at the time, but my co-workers and I had a good laugh afterwards. There was a woman who came in. She had already been banned from our office. Sometimes we get clients who use foul language, get very loud and very belligerent, so we have to tell them that "This is a public building and if you don't cooperate, you won't be able to come back here." So, this woman had already been banned. She was on a tirade, very belligerent, using language that I can't repeat and we couldn't calm her down and she wouldn't cooperate. I had to call 911 and use our panic button. The police came and escorted her out of the building. So, those are the kind of things that will sometimes happen. It was a trying experience at the time because you don't expect to come to volunteer work and have to get the police involved with a client.
Donna:
And that is one of the questions you might be asked in an interview, "Have you ever had to handle this type of situation before?"
Elizabeth:
I think I remember a couple years ago you said you were a bit nervous about volunteering and that you wanted to volunteer at the Disability Resource Centre specifically. Can you talk a little bit about how you were able to break that barrier, because you are now so confident. It could benefit others to hear.
Erin:
I initially started volunteering there when I was at the Pacific Training Centre because I remember volunteering as a six-month internship. I just really told myself, "Look. You want to do this." So, you need positive self-talk, and getting to know the people there and knowing that they're in the same boat as you – they're volunteering and doing similar things that you're doing and they're just really nice people and are great to work with. So yeah, I guess just not being afraid to be yourself and be friendly and open and kind.
Donna:
I just want to wrap this up by saying that the CFB is a fabulous opportunity for volunteer opportunities. And if you're wondering what capacity that your skills and your time might benefit, it probably would be good to contact Mary Ellen or write on the listserv. If you're interested in putting some time forward, we could always put you to work!
Canadian Federation of the Blind (CFB) Members Elect New Executive Board 2017 – 18

The Canadian Federation of the Blind (CFB) held elections for its Executive Board at its Annual General Meeting in Victoria, B.C. on May 6, 2017. All members of the Executive are blind and serve without compensation.
Members re-elected:
Oriano Belusic, First Vice President
Elizabeth Lalonde, Secretary
Donna Hudon, Member at Large
Members are grateful to Mary Ellen Gabias, President and Graeme McCreath, Treasurer, for their continued hard work and service.
The position of Second Vice President at present is remaining vacant.
Congratulations and thank you to the new Executive Board.
The Canadian Federation of the Blind is an organization of blind people committed to the equality and empowerment of blind Canadians. Through advocacy, public education and mentoring, members work for change, promote a positive perspective on blindness and together gain confidence and skills.
CFB Fun Trivia Night Fundraiser Report
By Doris Belusic
The Canadian Federation of the Blind held its fourth Fun Trivia Night fundraiser on Friday, May 5, 2017 at Norway House in Victoria, B.C. This fundraiser was generously sponsored by the Victoria Imperial Lions Club.
Over 50 people attended. The quizmaster, John Stonehouse, asked more than 100 questions and each table of eight players worked as teams casting their answers on sheets of paper which were later marked and tallied. Question categories included topics such as music, history, geography and science.
We were honoured this year to have CFB's President, Mary Ellen Gabias, join us all the way from Kelowna, B.C.
Chips and baked goodies at each table helped fuel our heavy-thinking minds and we could purchase beer, wine and pop. Coffee and tea were available by donation. Halfway through the evening, we enjoyed complimentary platters of sandwiches.
First, second and third winning tables received prizes of gift certificates/cards.
We also played two games of "heads and tails"– a quick, easy, fun elimination game that we learned to play at a previous Trivia Night. Players chip in one loonie and then chooses a position: either two hands on their head, two hands on their butt (tail), or one hand on their head and one on their butt. Then two coins are flipped and the result is called out. It may be head and tail. So, all those who have one hand on their head and one on their butt stay standing. The rest sit down. The same goes for whichever sides the coins land: heads and heads, tails and tails, or head and tail. Those left standing again choose a position and the coins are flipped again. People are eliminated until only one person remains standing, who is the winner and gets a prize.
Irv Duke, the Victoria Imperial Lion's Tail-Twister – a position in Lionism that promotes camaraderie and fun – wore a huge Texas-size stetson and ran the 50/50 draw.
The evening started at 6:30 and ended just after 9:30.
CFB would like to sincerely thank the Victoria Imperial Lions Club for once again sponsoring this event – their generous donation and support during the evening helped make this fundraiser both fun and a great success.
We would also like to sincerely thank:
Thelma Fayle (Sr.)
Thelma Fayle (Jr.)
Daryl Jones
Leigh Lundgren
Spice Jammer
A big thank you goes out to all who volunteered, attended and made this event another successful fundraiser. Without your support this wouldn't have been possible.
Lastly, a HUGE thank you goes out to Graeme and Christine McCreath for once again organizing and running this fun fundraiser.
Looking forward to the next one!
CFB Fun Triva Night Photos
Photo Credits: Daryl Jones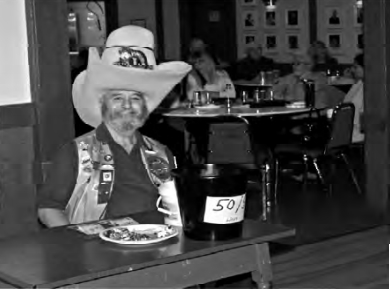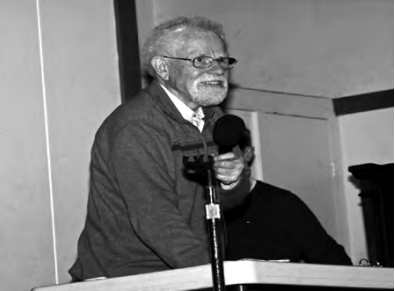 Gifts to the Canadian Federation of the Blind (CFB)
Thank you for your interest and your support of the Canadian Federation of the Blind. By donating to the Canadian Federation of the Blind, you can help make a significant difference in the lives of blind people across the country.
Donate Today and Help Change What it Means to be Blind! Together We Can Create a Positive Future for All Blind People.
General Donations:
General donations are a great way to contribute to CFB programs and support on­going efforts to improve equality and opportunity for the blind. Donations can be made online or by mail.
1) Online:
The CFB accepts online donations through Canada Helps, enabling you to contribute by credit card, Interac, or Paypal. Please go to: https://www.canadahelps.org/dn/17020
2) By Mail: Please make cheque payable to Canadian Federation of the Blind, and send to:
Canadian Federation of the Blind
P.O. Box 8007
Victoria, BC, V8W 3R7
Bequests and Planned Giving Programs:
Please write or email us at info@cfb.ca to receive tax-saving information.
Your donations are tax-deductible.
Registered Charitable Tax Number: 864997291 RR0001
Aeroplan Miles:
Go to: https://beyondmiles.aeroplan.com/adr/charity/546
We thank you for your consideration and generosity.
Help Blind Canadians by Donating Aeroplan Miles
The Canadian Federation of the Blind (CFB) uses donated miles to fly blind Canadians to the next National Federation of the Blind (NFB) blindness convention. This unique week-long gathering of over 3,000 blind people from around the world is an exceptional educational and mentoring experience. There is no comparable opportunity that offers the blind so much in such an intensive and compact session. Those who have had a chance to attend in the past consider it life-changing.
Many blind Canadians are isolated and do not come in contact with other blind people in their daily lives. What's more, many blind people lack confidence, blindness-specific skills and information. To meet and be mentored by blind people who are positive, capable and successful is the best way for any blind person to learn about blindness and one's own potential.
In addition, numerous blindness-related supports are offered, including hands-on demonstrations of the latest blindness technologies, resources and aids. Blind speakers hold talks on topics of accomplishments, education and rehabilitation, Braille, employment, cane travel, independence, advocacy and inspiration.
The convention is held annually in a large North American city. The most favorable accommodation rates are provided, along with good transportation links to enable as many blind participants as possible to attend.
The Canadian Federation of the Blind is truly trying to change what it means to be blind. We feel strongly that enabling blind people to participate in this extraordinarily positive and inspirational convention is the best way to maximize their chance for a better life.
Please help us raise the miles necessary so that more blind Canadians may benefit. Also, if you know of anyone who may be interested in contributing to this cause, please let them know about this Aeroplan charitable pooling initiative. Thank you for your support!
To contribute: https://beyondmiles.aeroplan.com/adr/charity/546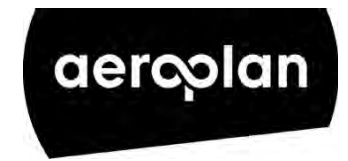 The Blind Canadian – A Magazine That Matters
Presented by Doris Belusic, Editor
CFB 'Vote of Confidence' 2017 Convention
Hi there. I'm the editor of The Blind Canadian which is CFB's magazine. It sort of parallels with the National Federation of the Blind's (NFB) Braille Monitor magazine in the U.S., ours being a smaller version. The Blind Canadian is published twice a year. It has a run of 2,000 print copies that go out to various offices and places throughout the country. It is sent to every member of Parliament, all B.C., Alberta and Ontario Legislature members, and to Library and Archives Canada. A copy goes to the U.S. NFB library in its international archive called BlindCat (Blind Catalogue). The magazine is also on CFB's website, www.cfb.ca
The Blind Canadian contains all kinds of positive blindness information, articles and stories. Anybody who'd like to submit an article or story for the magazine can email it to editor@cfb.ca. We go through all submissions. If they are expressly written for the magazine, there's a $25 honourarium that goes to writers whose work gets published. Articles and stories cover topics like advocacy, the iPhone project and other technology, blindness rehabilitation, NFB and CFB conventions, Braille, guide dog issues, CFB's trivia night fundraisers, jobs blind people do, success stories, personal and inspirational stories, and recipes! The Blind Canadian is informational and inspirational and I encourage people to read it and spread the word about it – and also to submit articles. Thank you.
Recipes!
The following recipes come from Gina Huylenbroeck, Victoria, B.C. These recipes are three of many that Gina cooked while a student for nine months last year at the Louisiana Center for the Blind. The Beef Stroganoff and Brownies were part of her meal assignment to cook for eight guests. The Thai Coconut Chicken and Vegetable Curry and Brownies (again, because they were so good) were part of her meal assignment to cook for 40. Enjoy!
Brownies
Preheat oven to 350
1 cup butter
4 ounces unsweetened chocolate squares Melt butter and chocolate together on low heat.
While butter/chocolate is melting, grease a 9" x 13" pan and line with parchment paper or dust with flour.
Get out ingredients:
4 eggs
1 1/3 c. of flour
2 c. sugar
1/4 tsp. salt
1 tsp. vanilla or 1/2 tsp. peppermint extract
Once butter and chocolate is melted, remove from heat.
Add sugar and mix well
Add vanilla or peppermint. Stir.
Add eggs one at a time. Stirring well
Add flour and salt.
Mix well and pour into cake pan.
Bake for 25-35 minutes. Check at 20 minutes. Cool.
Icing for Brownies:
In saucepan put:
1/3 c. sugar
1/3 c. butter
1/4 c. milk
Bring to a boil and boil for 1 minute while stirring.
Add 1 cup semisweet chocolate chips. Stir until melted then pour over cooled brownies. Delicious!
Thai Coconut Chicken and Vegetable Curry (makes 6-8 servings)
Cook 5 chicken breasts in oven.
1-2 Tbsp. red curry paste
2 Tbsp. oil
Stir fry red curry paste and oil on med-high heat until you start choking. Should look brown.
Add 3 c. coconut milk gradually while tasting. Mix continuously until it's bubbling, not boiling.
Add
1 can of bamboo shoots.
1Tbsp. brown sugar, or to taste.
2 Tbsp. fish sauce, stirring regularly.
Let simmer on low heat.
Fifteen minutes before serving, turn up heat to medium and add veggies (such as zucchini, bell peppers, cauliflower) and the meat. Serve over jasmine rice.
Jasmine Rice: 2 c. jasmine rice to 4 c. of water or chicken stock in rice cooker.
Beef Stroganoff (makes 8 servings)
2 pounds sirloin
1 1/2 pound mushrooms
1 large onion
Oil
2 Tbsp. tomato paste
Few shakes salt
Few shakes pepper
2 Tbsp. Worcestershire sauce
2 pinches cayenne (very hot)
3 heaping tsps. tarragon
1 tsp. garlic powder
1 large bay leaf
1 c. sour cream
Prep:
Slice sirloin steak very thin against the grain.
Slice onion and mushrooms.
Start by frying onions and mushrooms in 2 Tbsp. oil. When cooked, put in a bowl to the side.
Then fry meat in 2 Tbsp. oil on high temp. Remove all extra liquid to fry (instead of stew).
Start rice: 3 c. white rice to 6 c. water, and 2 tsp. salt or 2 Tbsp. butter. (You can use broad noodles instead of rice.)
Once meat is cooked, turn heat down to low.
Add mushrooms and onions back to pan.
Add tomato paste, salt, pepper, Worcestershire sauce, cayenne, tarragon, garlic powder and bay leaf.
Mix all together and cook for 30 minutes on simmer, stirring often.
Add more Worcestershire sauce and spice as needed.
Add sour cream. (Amount can be adjusted.)
Pour on top of rice and serve.