A Few Words from Our President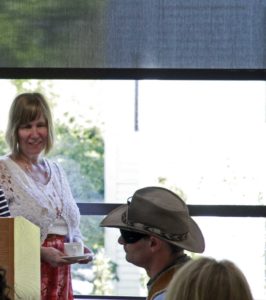 CFB President Mary Ellen Gabias addressed members at the 2017 "Vote of Confidence" Convention held in Victoria, British Columbia on May 6, 2017. "This is the 25th anniversary of Federationism in Canada, as well as the 150th anniversary of our country. We deserve to give ourselves a round of applause because it really is a milestone year for us. And with all the energy in this group, it's going to be a milestone future for us as well…"
You can read Mary Ellen's speech in its entirety by following this link.
Read the October 2017 Issue of The Blind Canadian Magazine

The current issue of The Blind Canadian is now online and can be read by clicking here.
Lions iPhone Project for the Blind

Recognizing the iPhone as a very powerful information access tool for the blind, the Lions Clubs from District 19, represented mostly by clubs situated on Vancouver Island, are excited to be sponsoring a project that will see blind individuals be equipped with a current unlocked iPhone.
Learn how to apply for the iPhone project opportunity by following this link
Position Statement of the Canadian Federation of the Blind Concerning Rehabilitation of Blind Canadians
The Canadian Federation of the Blind has just posted a seven-point position statement concerning the rehabilitation of blind Canadians. Follow this link to read the rehabilitation position statement document.
The CFB wishes to express its sincere gratitude to the following sponsors for their ongoing support: